After you have added an IM account to Gaim, you can use Gaim for instant messaging. If you added multiple IM accounts, the Gaim Login window provides a drop-down list that allows you to select the account you want to use for your IM session.
Before You Begin
83 Configure Gaim Instant Messenger

Log On to IM Session
In the Gaim Logon window (select Programs, Internet, Instant Messenger), select the Account drop-down list to select the account you want to use (enter password if necessary). Select Sign On to begin the IM session.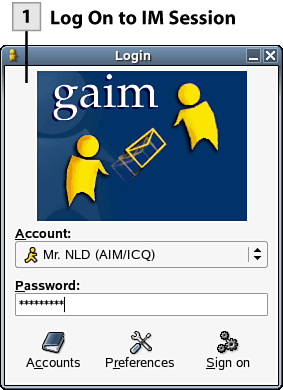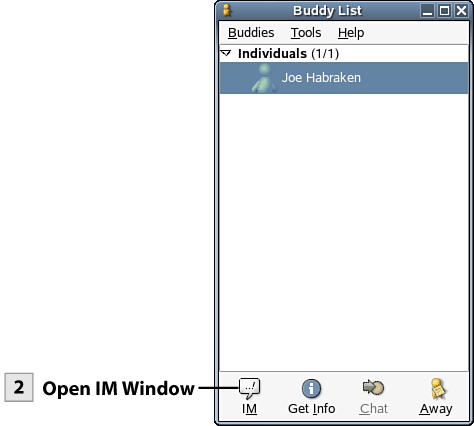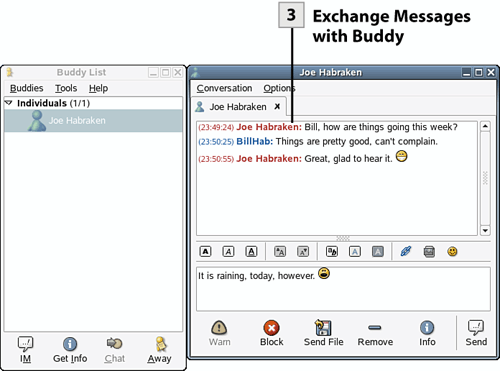 Open IM Window
After you are connected, the Buddy List appears. Select a buddy from your list and select IM. The IM window for that buddy opens.
Tip
To list a buddy (or buddies) in the Buddy List, select Buddies, Add Buddy. Enter the name and alias to add the buddy to the list. Repeat as necessary to build your buddy list.

Exchange Messages with Buddy
Type your text messages in the lower message pane and then select Send. Messages from you and to you from the buddy appear in the upper message pane. Exchange messages as needed. To end the session, close the Message window.
Tip
To add emoticons to your messages, select the Insert Smiley icon and select an icon to place in your current message. You can also send files to your buddy; use the Send File icon at the bottom of the Message window.