By default, the Inbox view is sorted by date in ascending order, which means that the older messages are at the top of the view and the newer messages are at the bottom. You can change the sort order of the documents in a view by clicking on the view column headers. However, not all the columns in the view can be changed. You can tell which columns can be sorted by the triangle on the column head (see Figure 4.1). The sortable column headers have triangles on them. For example, in the Inbox view, the Who column header has an up triangle that indicates that this column can be re-sorted in ascending order (alphabetically, from AZ). The Date column has a down triangle, which means this column can be re-sorted in descending order (from most recent to oldest). The Size column has a down triangle, indicating that the messages can be re-sorted by size, with the largest messages first.
Figure 4.1. Sorting columns on-the-fly can help you find messages quickly.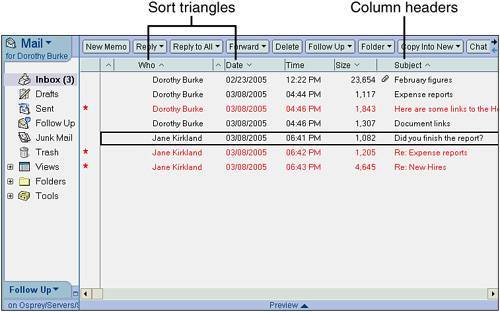 If the option to sort both ways is available in a view, there are two triangles in the column headingone points up and the other points down. Once you sort columns, the columns stay in the sort order you placed them in, even if you exit Notes and open it again.
| | |
| --- | --- |
| | Would you prefer to have the Subject column appear right after the Who column? You can rearrange the order of the columns in your Inbox. Point to the Subject column header and drag it to the left until you see a dark vertical line at the end of the Who column header. When you release your mouse button, the Subject column header is in its new position right after Who. |