To keep your Mail database manageable, make it a practice to clear out old messages when you are through with them. It helps to keep your database file at a manageable size. If you think you'll need the message again, archive it or store it in a folder. If you know that you don't need the message anymore, delete it.
You can mark messages for deletion while you're reading them, or you can do it from the View pane. Use the following steps to delete a message while you are in read mode:
| | |
| --- | --- |
| 1. | In the opened message, click the Delete button on the Action bar or press the Delete key on your keyboard. |
| 2. | Lotus Notes marks your open message for deletion and closes the message; your next message appears. |
| 3. | Continue reading the rest of your messages, deleting those that you don't want to keep. |
To mark messages for deletion while you are in the Inbox or while you are in some other folder or view, you must first select the message or messages you want to delete. This can be done using one of the methods for selecting documents that were described in Chapter 3, "Email Basics." Then click the Delete button on the Action bar or press the Delete key.
When you delete mail messages, they disappear from the Inbox and move to Trash. Deleted mail messages will stay in Trash for a specified period of time, and then be permanently removed from your Mail database after the time limit expires. To see this soft deletion time limit, open your Inbox and choose Tools, Preferences on the Action bar. The Preferences dialog box opens, as shown in Figure 4.2.
Figure 4.2. The number of hours your deleted messages will stay in the Trash is specified under the Soft Delete section. Depending on how your organization has configured your mail, you may even be able to set the time period yourself.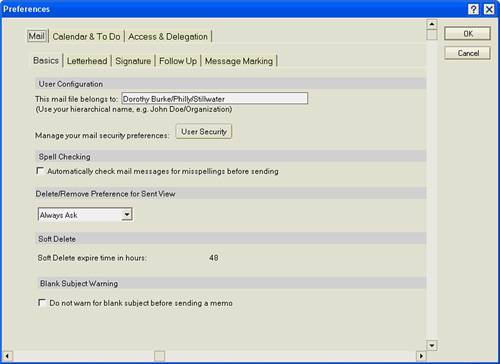 To permanently delete a message from your Mail database, open the Trash view in the Mail Navigator pane. You'll see the messages you marked for deletion, as shown in Figure 4.3.
Figure 4.3. The Trash displays messages that are marked for deletion in the View pane.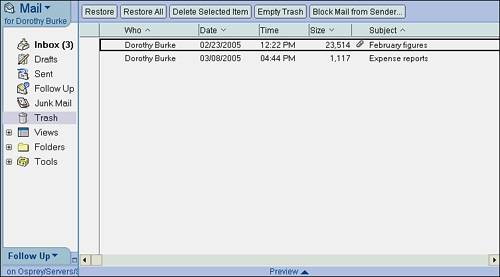 Click the Empty Trash button in the Action bar to delete all the messages in Trash. Alternately, to delete a single item, highlight the item and click Delete Selected Item. You will be asked to confirm that you want to delete the message(s). Be careful; once you do this you won't be able to get the message(s) back!