Creating a Stored Procedure by Using Visual Studio
If you have been using Notepad up to this point as I have, you'll certainly be ready to move over to Visual Studio .NET before continuing. Visual Studio .NET Professional Edition offers a Database project template that you can use to create assemblies that run in SQL Server. For example, Figure 9-3 shows the Database project template that is available for Visual Basic projects.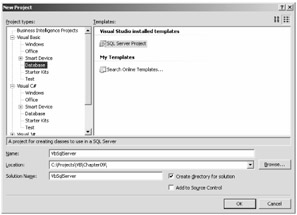 Figure 9-3: Visual Studio .NET has Database project templates for each language.
Using Visual Studio means that you use the same robust environment that you normally write code in, complete with IntelliSense. The Database project template also gives you the ability to easily deploy and debug your projects.
Create a Database project called SqlServerVb or SqlServerCs, depending on your language. You are prompted to select the database to connect to. If the database isn't attached, you can opt to attach a new database. For these examples, we'll select the Northwind database.
You can add stored procedures, user-defined functions, aggregates, triggers, and user-defined types to the database project. All of these are covered in this chapter, but at this time, add a stored procedure called HelloVb.vb or HelloCs.cs. The following code is included in the stored procedure template when it is added.
Visual Basic
Imports System

 

Imports System.Data

 

Imports System.Data.Sql

 

Imports System.Data.SqlTypes

 

Imports Microsoft.SqlServer.Server

 

Partial Public Class StoredProcedures

 

    <Microsoft.SqlServer.Server.SqlProcedure()> _

 

    Public Shared Sub HelloVb ()

 

        ' Add your code here

 

    End Sub

 

End Class