Reed Jacobson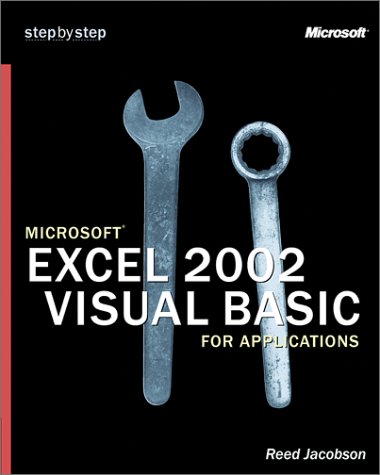 PUBLISHED BY
Microsoft Press
A Division of Microsoft Corporation
One Microsoft Way
Redmond, Washington 98052-6399
Copyright © 2001 by Reed Jacobson
All rights reserved. No part of the contents of this book may be reproduced or transmitted in any form or by any means without the written permission of the publisher.
Library of Congress Cataloging-in-Publication DataJacobson, Reed. Microsoft Excel 2002 Visual Basic for Applications Step by Step / Reed Jacobson. p. cm. Includes index. ISBN 0-7356-1359-1 1. BASIC (Computer program language) 2. Microsoft Visual Basic. 3. Microsoft Excel (Computer file) I. Title.
QA76.73.B3 J339 2002 005.26'8-dc21 2001042734
Printed and bound in the United States of America.
1 2 3 4 5 6 7 8 9 QWT 6 5 4 3 2 1
Distributed in Canada by Penguin Books Canada Limited.
A CIP catalogue record for this book is available from the British Library.
Microsoft Press books are available through booksellers and distributors worldwide. For further information about international editions, contact your local Microsoft Corporation office or contact Microsoft Press International directly at fax (425) 706-7329. Visit our Web site at www.microsoft.com/mspress. Send comments to mspinput@microsoft.com.
ActiveX, Microsoft, Microsoft Press, MS-DOS, PivotChart, PivotTable, Visio, Visual Basic, Windows, and Windows NT are either registered trademarks or trademarks of Microsoft Corporation in the United States and/or other countries. Other product and company names mentioned herein may be the trademarks of their respective owners.
The example companies, organizations, products, domain names, e-mail addresses, logos, people, places, and events depicted herein are fictitious. No association with any real company, organization, product, domain name, e-mail address, logo, person, place, or event is intended or should be inferred.
Acquisitions Editor:
Kong Cheung
Project Editor:
Jean Cockburn
Technical Editor:
Dail Magee, Jr.
Body Part No. X08-04878
About the Author
Reed Jacobson is a consulting manager with Aspirity, a company that specializes in Business Intelligence solutions with a focus on Microsoft SQL Server 2000 Analysis Services. Reed received a B.A. degree in Japanese and Linguistics, an MBA from Brigham Young University, and a graduate fellowship in Linguistics from Cornell University. He worked as a Software Applications Specialist for Hewlitt-Packard for 10 years and ran his own consulting firm for 5 years. Reed is the author of Excel Trade Secrets for Windows, Microsoft Excel Advanced Topics Step by Step, Office 2000 Expert Companion, and Microsoft SQL Server Analysis Services Step by Step. He has given presentations on Excel at TechEd and other Microsoft conferences and seminars. He has also created training video tapes for Excel, Access, and Visual Basic.