The HTTP Servers are delivered as part of the licensed program product 5722DG1. Use the command GO LICPGM and take option 10 to review the list of installed products. After verifying that you have the HTTP Server installed, use the command STRTCPSVR SERVER(*HTTP) HTTPSVR(*ADMN) to launch the browser-based HTTP administration tool. To use the Admin Server, open a browser such as Internet Explorer and change the address to http://www.your-i5-ip-address:2001. A log-in prompt appears and requires a user profile with security officer privileges. Once you log in, the main admin page shown in Figure 31.1 appears.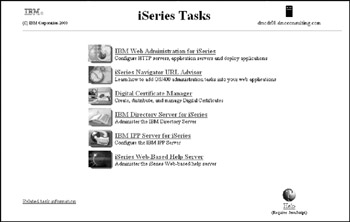 Figure 31.1: i5 Admin Server.
The Admin Server provides tools for controlling and configuring a number of different products. Select the first option, "IBM Web Administration for iSeries" to launch the Web admin tool shown in Figure 31.2.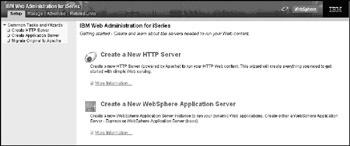 Figure 31.2: Web Admin Server.
The Web admin tool has four menu tabs. The first, shown here, provides options for creating HTTP and Web servers as well as migrating older HTTP Server to Apache. The remaining menu tabs are discussed later in this chapter. Select the option to "Create a New HTTP Server" to begin the process of creating a new server, as shown in Figure 31.3.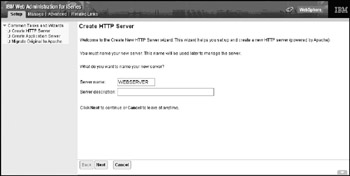 Figure 31.3: Choosing a name for the HTTP Server.