Oftentimes in the middle of a creative session, we get a little sloppy . We find ourselves dragging files in, dumping things on the desktop, or even reading right from a network. That's fine when you are sitting in front of the machine, but we prefer our renders to be autonomous. The best way to ensure a smooth render is to pull all files together into one folder.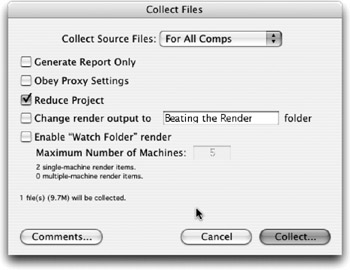 Choose File > Collect Files

Specify if you want files For All Comps, For Selected Comps, or only for Queued Comps.

When ready, click Collect.

The needed files will be copied to a new folder that you specify. The original files are still left behind.

You can choose to leave the original files around (in case other projects or users need them) or manually erase them.

To find stray files, you can also run the Collect Files Feature on the original project, but this time generate a report only.