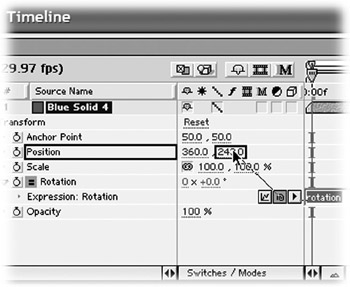 Some properties, such as position, are two-dimensional, meaning they are controlled by two values. Position is controlled by an X value and a Y value. (If you're working in 3D, position is three-dimensional, controlled by X, Y, and Z). Scale is also two dimensional, controlled by width and height. On the other hand, Opacity and Rotation are one-dimensional, each being controlled by a single value. In the case of Opacity, this is a percent, whereas for Rotation, it's an angle (degrees).
What happens when you create an expression in which a two-dimensional property controls a one-dimensional property? For instance, what if you try to control Rotation with Position? Position will send two numbers to Rotation, but Rotation will only use one of those numbers and throw the other one away. By default, Rotation will use the X and ignore the Y.
If you want Rotation to change when the Y changes (when the layer moves up or down), add an expression to Rotation, then Pickwhip just the Y dimension of Position.