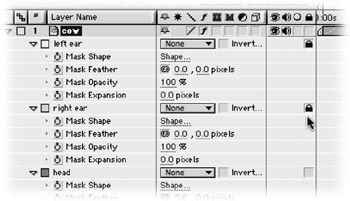 Sometimes you can be your own worst enemy. Using a lot of masks can be troublesome as they can get in your way and be unintentionally modified. If a mask is "locked in," consider locking it down.
Twirl down a layer to reveal all of your masks.

In the A/V features column, you can lock an individual mask to prevent changes.
To hide those masks, choose Layer>Mask>Hide Locked Masks to hide the vertices in the Comp Window. You will still see the results of the locked masks, but cannot make accidental changes.