Most AE plug-ins view color as existing on a color wheel, with red at the top and cyan at the bottom. You can specify colors on this wheel in degrees: zero = red, 180 degrees = green, and 360 degrees equals red, because on any circle, zero and 360 degrees are in the same spot.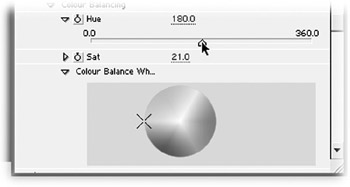 The Hue sliders in Keylight work the same way. Since the default slider value is zero, the default hue is red. If you scrub the slider to 180, the hue will be cyan. (Remember to increase Sat if you want to see Hue having any effect).
If you use the color wheel, note that it's been rotated 90 degrees clockwise. So red is facing East (at 90 degrees, whereas normally it would be North, at 0 degrees).