Keylight: What a Load of Crop!
Sometimes you simply want to knock out a whole side of an image-or its top or bottom. For instance, if there's a boom mic showing in the top of the frame, you might want to crop it out.
You can do this right in Keylight, using the Source Crop controls. Twirl open the controls, and scrub the values on Left, Right, Top or Bottom to remove pixels from the screen edges.
When Keylight removes these pixels, it must replace them with something. You can choose what Keylight puts in their places from the X Method and Y Method dropdowns. You can make a different choice about replacing side pixels, which are X Method pixels, from top and bottom pixels, which are Y Method pixels). If you choose, Color, Keylight will replace the cropped pixels with a color of your choice, which you can indicate by adjusting the Edge Color property. If you pick the same color as the Screen Color, Keylight will key out the cropped area.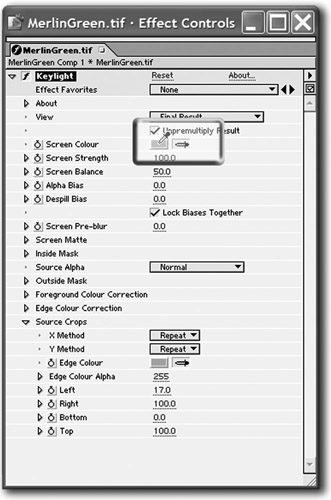 Try clicking the eyedropper next to Edge Color, then Clicking the small color swatch next to Screen Color.