Need some random, animating characters ? Try this:
Use the Type tool to add some random character on a Type layer.

Twirl open the layer, and from the Animate menu, choose Character Offset.

Turn on the stopwatch next to the Character Offset property.

Move the Current Time Indicator to the end of the Comp.

Scrub the Character Offset property value to a higher (or lower) number.
Character Offset will change "abc" to "bcd" to "cde" To make a code turn into recognizable text, type the text, and then animate Character Offset from some high value down to zero.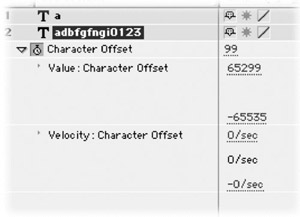 For some more fun, try animating Character Offset on text set to a dingbat font (one of those fonts in which the characters are images instead of letters ).