Harnessing Layer Styles is an important part of a professional user's workflow. The efficiency and flexibility offered by styles are huge timesavers. They can also add consistency to a designer's techniques. Be sure to fully explore all the ways Styles can be useful to you.
Using Prebuilt Layer Styles
Adobe Photoshop includes some very good layer style presets to work with. These are an excellent way to learn what is possible with Layer Styles. By seeing the possibilities, you can learn how to combine effects to create your own custom looks.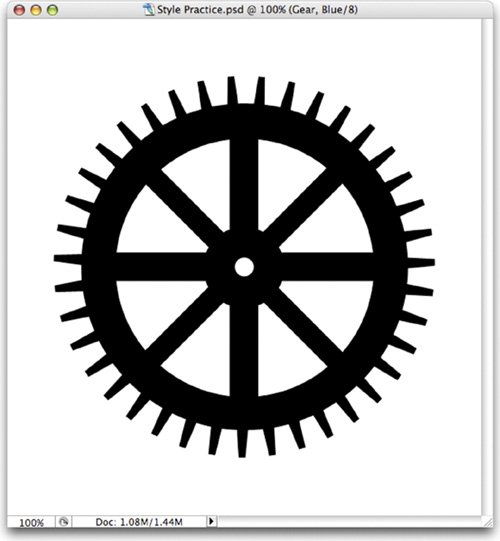 1.

Open the file Style Practice.psd from the Chapter 13 folder.



2.

Activate the Styles palette by choosing Window > Styles. Each swatch represents a Layer Style. To apply a style, highlight any layer (other than the Background layer or a locked layer) and click a swatch.



You'll find these and 22 other styles in the UAP Styles set on the DVD.

3.

If you need more looks, click the Styles palette submenu. You'll find several options built into Photoshop. When you select a new set of styles from the Preset list, you are presented a choice:



Append:

Adds new styles to the bottom of the current list



Cancel:

Does not load anything new



OK:

Replaces the current list with new presets



4.

You can also load styles that don't appear in the preset list. Choose Load Styles from the Styles palette submenu. You'll find a collection of styles called UAP Styles.asl in the chapter's folder. If you'd like these new styles to appear in your preset list, locate the Presets folder inside your Photoshop application folder. Any Layer Style library copied into the Styles folder will appear as a preset the next time you launch the program.


Tip: Scaling Styles
When changing the Image Size (Image > Image Size), specify that you'd like styles to scale proportionately.
Looking for More Styles?
One of the best places to find more Layer Styles (as well as other resources) is Adobe Studio's Exchange (www.adobexchange.com). This is a popular free site (don't be thrown off when it asks you to register). You'll find a plethora of free content available for all Adobe products.
Creating Your Own Layer Styles
It's a pretty straightforward process to create your own Layer Styles. You simply add one effect at a time and experiment with different combinations. Options like Contour and blending modes go a long way toward creating appealing Styles. Styles are quick to learn and easy to master; just continue to experiment with many options.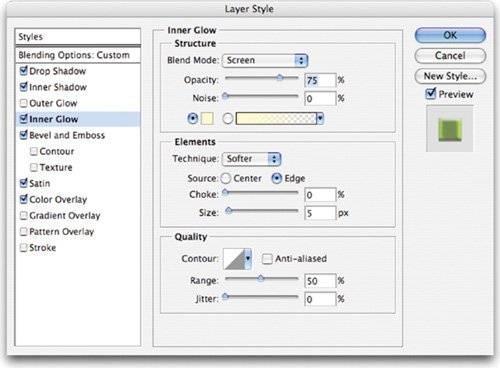 Saving Layer Styles
Once you've created an original style (or even modified an existing one), you may want to save it. There are two ways to save a style: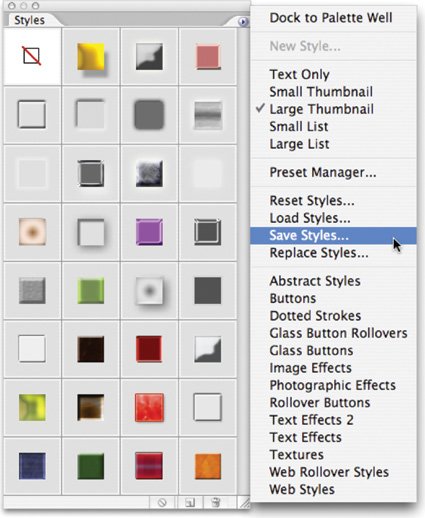 Embed: Photoshop embeds the Layer Style information into the layered files. Be sure to save the document in a layered format (such as Photoshop Document, Layered TIFF, or Photoshop PDF). Three months from now, when your project comes back to life, you can open your source files and start making changes. Remember, Layer Styles will automatically update as you make edits to the layer.

Save as a Library: After creating a Layer Style, you can add it to the open style library by clicking an empty space in the Styles window. A new thumbnail swatch is created, and you are prompted to name the swatch. It is then available to you until you load another style library.
If you want to save styles permanently, you must save a Styles library (or set) from the loaded swatches. It's a good idea to create a personal set in which to store your styles. There is no "new set" option. Simply create new styles and then delete any styles you don't want by dragging them into the trash can at the bottom of the palette or Option-clicking (Alt-clicking) an unwanted style. When you're ready to save, choose Save Styles from the Styles palette submenu.
You should store styles in <Photoshop Application folder > > Presets > Styles. Styles placed in this default location will appear in your pop-up menu when you restart Photoshop.