Profile: Scott Billups, Director of Photography/Director/VFX Supervisor/Author
Scott Billups is a pioneer in the digital visual effects world. He has worked on major Hollywood films and television shows in various capacitiesas a cinematographer, a director, and a supervisor for the special effects in the project. Despite these varied roles and need for motion, Scott relies heavily on Photoshop.
"Photoshop is probably the single most commonly used graphics application in television and motion picture production," said Billups. "There are probably as many ways to use it as there are people who use it."
Billups has created several television specials for the Discovery and History Channels. He frequently needs to take actors and insert them into historical locations. His process often involves shooting photos on location, and then inserting actors using greenscreen technology back in his California studio.
"One of my favorite budget-stretching, time-saving uses is a process I call Super-Frames," said Billups. "The trick is to shoot the plates cinematically. Unlike your basic holiday snapshot, a Super-Frame series needs to adhere to an established narrative structure. Since the Super-Frame is much larger than even the most advanced High Definition frame, you have plenty of room to pan and move the framing of your shot."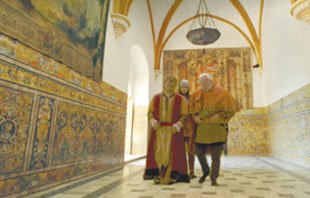 While he takes photos of historical locations for these shows, the photos need to be touched up. Modern buildings and power lines must be removed, often along with such items as roads and sidewalks. Billups also takes note of lighting conditions so he can match them later. Having a reference point allows for multiple shots to be color matched.
"It is very important to make a note of the lighting for each of these Super-Frames that you are creating. I've found that a simple white balloon, positioned in the area of the actors, has basically all of the information that I need to re-create a matching lighting scenario back in the studio."
Billups stressed that Photoshop is both an essential tool and a stepping-stone to other filmmaking tools.
"The Matte and Alpha Channel tools in Photoshop are used at some point on nearly every production, large or small," said Billups. "If you don't have the patience to cut a matte, you're ill suited to a career of pushing pixels."
If you are looking to get into visual effects and the motion picture industry, Billups stressed that it takes a deep sense of commitment and a respect for quality.
"It takes less effort to stay busy than it does to look busy," said Billups. "There's always a way to make something look better, so if you finish ahead of time, tweak till they pry it away from you."
For more information on Scott Billups, see his Web site at www.pixelmonger.com.