Starting with OS X Tiger, Apple has improved the ability to search the contents of your hard drive. By using Spotlight, you can enter keywords to refine a search. This process can be very fast as Spotlight can index your system. The more information you give it, the more accurately your files can be indexed.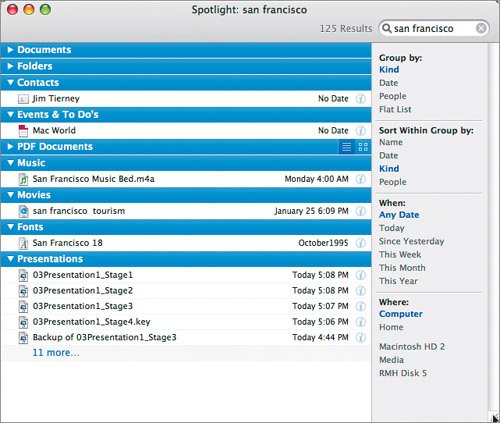 Keynote 3 allows you to accurately index your presentation files for easy searching later. You can add your name, the title of your presentation, keywords, and comments to a Keynote presentation. Then you can use Spotlight to search for presentations containing that information.
1.

Open the Document Inspector.



2.

Click the Spotlight button.



3.

Enter the information you want to use for searches:



Author: Type your name.

Title: San Francisco Tourism.

Keywords: Enter titles of slides or major topics.

Comments: Describe what the presentation was created for.

4.

Save your work.

The next time you search with Spotlight, your presentation will be easier to find.