46. About Google Personalized Home
| BEFORE YOU BEGIN | SEE ALSO |
| --- | --- |
| Set Up a Gmail Account | Perform a Basic Google Search |
Think of Personalized Home as command central for Google. From this page, you can do normal Google searches and you can get links to all kinds of information and services.
As with a number of other Google services, you must have signed up for a Google account to use Personalized Home. For details, see Chapter 1, "Start Here."
To get to your Personalized Home page, head to www.google.com, and click the Personalized Home link (look in the upper-right corner of the screen). If you haven't already signed in to your Google account, you have to sign in now. After you do that, you come to a relatively bare page that you can begin customizing, as detailed in the rest of this chapter.
If for some reason you don't want to use Personalized Home and prefer the normal barebones Google page, click the Classic Home link at the top of the page, and you go back to old-fashioned Google.
The Google Personalized Home page.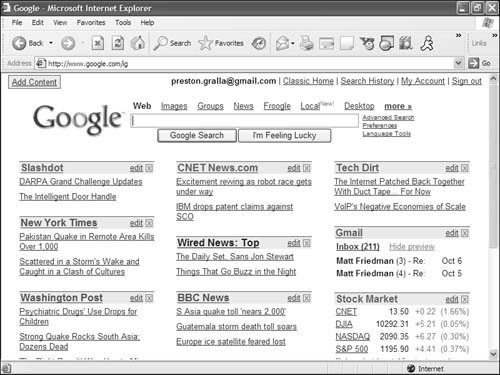 Tip
You can make Personalized Home your browser's home page so that whenever you start your browser or click the Home button in your browser, you are sent to your Google Personalized Home page. In Internet Explorer, choose Internet Options from the Tools menu, type http://www.google.com into the Address box at the top of the screen that appears, and click OK.