You can enliven any presentation by adding multimedia options such as clip art, pictures, sound, and movies. For example, you could take a simple bulleted list and make it both more interesting and more meaningful to your audience with a few simple additions.
Create this slide by choosing the Title, Text, and Clip Art layout from the Slide Layout task pane (click the New Slide button to open the task pane). Add your bullet items on the left side and then double-click the clip art placeholder. Select a picture from the Select Picture dialog box which appears (enter some search text to narrow down your choices).
From here, you can add a music clip to play in the background as an introduction; again, something that relates to your topic works best. How about music from your company's radio or TV ads, or something motivating if you want to inspire your employees ? To do this, choose Insert, Movies and Sounds, Sound from Clip Organizer to view the sound files in the Clip Art task pane. When you choose the appropriate sound file, you can specify that PowerPoint play it automatically in your slideshow. Adding a movie clip would be another option (Insert, Movies and Sounds, Movie from Clip Organizer). With a quick click, you could demo your company's latest TV ad. Sound and movie files can display visually on your slides or you can hide them (as illustrated in this example).
Before
Figure 13.19. There's nothing wrong with this slide, but it isn't very exciting either.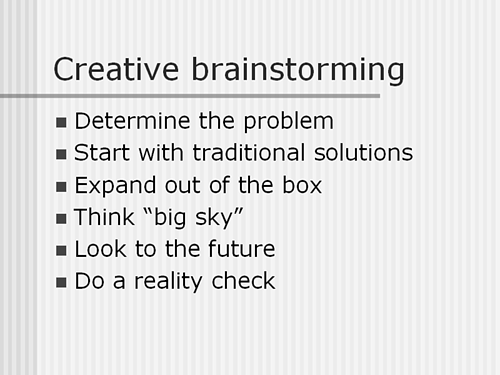 After
Figure 13.20. Add clip art and other multimedia effects to enliven your presentation.