Overview
Adesktop computer is usually a box with a lot of electronic circuit boards and storage devices inside. The box might sit on its wide surface or on one of the short sides, but it operates the same either way.
This chapter describes all the bells and whistles on the outside of your computer, including the switches and pushbuttons that you use to operate the machine, the lights that tell you what's happening, and the sockets to connect peripheral devices to the system. There's no universal standard for the external layout of a computer case, but Figure 16.1 shows a typical system. The front panel of your computer probably includes most of these features:
A large pushbutton power switch

A reset pushbutton

An LED indicator that lights when the computer is on

An LED indicator light that shows disk drive activity

Two or more large drive bays for CD drives, DVD drives, and other devices

One or more small drive bays for floppy disk drives and other devices

One or more air intake vents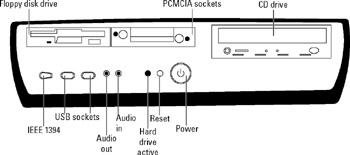 Figure 16.1: A desktop computer's front panel includes several controls and indicators.
Many computers also have some or all of these connectors on the front panel:
One or more USB sockets

An IEEE 1394 (FireWire) socket

A headphone output connector

A microphone input connector
Figure 16.2 shows the rear panel of the same computer. The rear panel usually includes these features:
A connector for a removable AC power cable

Several removable cover panels for AGP, PCI Express or PCI expansion cards

An assortment of input and output connectors:

One or more USB connectors

One or more IEEE 1394 (FireWire) connectors

An Ethernet network connector

A 15-pin analog VGA video output connector

A DVI digital video output connector

An S-video connector

Various audio input and output connectors

An exhaust vent for the internal fan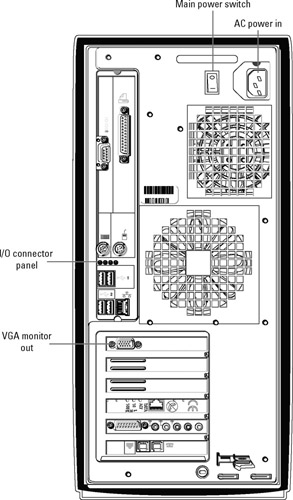 Figure 16.2: The rear panel provides access for most of the external inputs and outputs.
Several other connector types are gradually being replaced by USB sockets, but you might still find some of them on your computer. These include:
A PS/2 mouse connector

A PS/2 keyboard connector

One or more 9-pin serial port connectors

A 25-pin parallel port connector

A 15-pin Game port
Almost every new motherboard gathers all of its I/O connectors into a group at the left end of the board (as you look towards the rear of the board) that fits the cutout holes in a cover plate. When the motherboard is mounted in a case, the cover plate snaps into an open space in the case's rear panel. On older motherboards and cases, each connector mounts in an individual hole in the rear panel or a separate piece that fits in one of the expansion slots, but this arrangement is increasingly uncommon.