Preparing Speaker's Notes
When you create a presentation, you have done only half the job. Eventually, you have to go before an audience and speak! Showing the slides isn't enough; you need to extrapolate the information on each slide and present it to your audience. What will you say? You've created a stupendous presentation using PowerPoint, but now you need to create some notes pages for the verbal part of the presentation. Unlike other presentation programs, PowerPoint makes it very easy to create speaker's notes. You can do that by using the notes pane in the Normal view.
To create speaker's notes in Normal view, use the following steps:
Display the slide to which you want to add notes.

Click the Notes pane.

Type your notes.

Click the Slide or Outline pane when finished.
You can also use the Notes Page view as in previous versions of PowerPoint. Select View, Notes Page from the menu. Click the Notes placeholder and type your notes. Usually the placeholder for your notes is so small that you can't see what you're typing. You might want to zoom in to 75% or 100% for a more legible display. Change back to Normal view when you are finished.

The Notes pane can be resized if needed. Place the mouse pointer on the Notes pane border until it looks like a double arrow, and drag the border to a different size. Release the mouse button when finished.
Printing Speaker's Notes
Typing your speaker's notes is only half the battle; you will eventually want to print out those notes. You can print notes only when you select the Notes Pages option from the Print dialog box (see Figure 25.6).
Figure 25.6. Use the Print dialog box to print speaker's notes.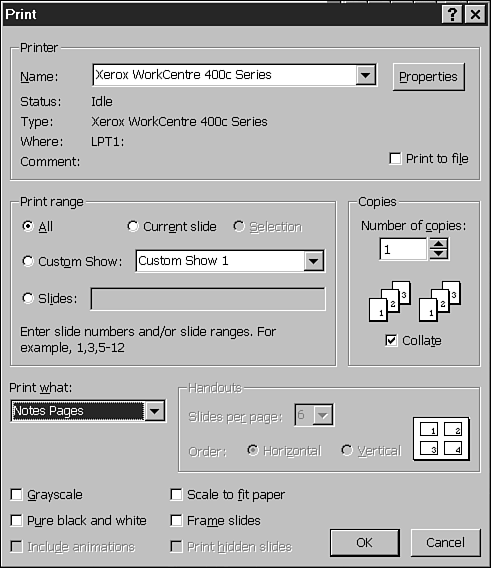 To print speaker's notes, follow these steps:
Choose File, Print from the menu to display the Print dialog box.

| | |
| --- | --- |
| | If you want to print speaker's notes, do not click the Print button because that prints your entire presentation, no questions asked. You need to specify that you want to print speaker's notes in the Print dialog box. |




In the Print What drop-down list, select Notes Pages.

Change any other options needed.

Click the OK button.
PowerPoint prints a miniature of each slide on the top half of the page, with the corresponding speaker's notes on the bottom half, as shown in Figure 25.7.
Figure 25.7. Speaker's notes show the appropriate slide with the applicable notes.