When you add graphics to a document, you aren't limited to working with images separate from your text. WordArt lets you add flair to your text itself. It's perfect for creating splashy headings and titles. You start with a basic "look" for your word or phrase, and then tweak it to get the exact effect you want. After you've added a WordArt image, you can resize it, add borders, and so on. Figure 9.17 shows a heading created with WordArt.
Figure 9.17. You can create a variety of effects with WordArt.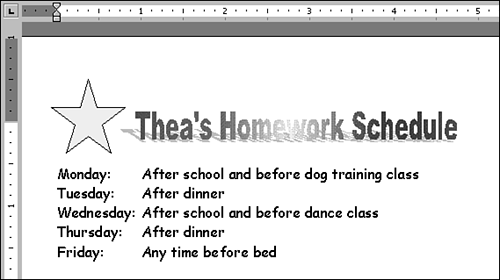 To create a WordArt image, follow these steps:
Click where you want the WordArt image to go.

Choose Insert, Picture, WordArt. (If your Drawing toolbar is displayed, you can also click the Insert WordArt button on this toolbar.)

The WordArt Gallery dialog box opens (see Figure 9.18). Click the look that you want to start with, and click the OK button.

Figure 9.18. Choose the WordArt style that most closely matches what you want.

The Edit WordArt Text window appears.

Type the text for your WordArt image, replacing the Your Text Here placeholder text (see Figure 9.19). Your text won't take on the look you chose in step 3 until it's inserted in the document.

Figure 9.19. Type the text that you want to use in the Edit WordArt Text window.

Use the Font and Size lists and the Bold and Italic buttons to make additional adjustments to the text.

Click the OK button.
The WordArt image appears in your document. To revise the WordArt text or change its appearance after you've created the image, use the WordArt toolbar. This toolbar appears as soon as you insert a WordArt image. If you don't see it, choose View, Toolbars, WordArt.