Before You Begin

2 Plan Your Video

4 About Your Video's Audience
See Also

32 Rearrange the Storyboard

44 Set Trim Points
When filming , shoot anything and everything. At events such as parties, weddings, and plays, you cannot reshoot a scene later if you miss it the first time. As a videographer, you will learn to enjoy such events through your camera's eye. If you don't learn to shoot continuously as much as possible, you risk missing key scenes that would make your video more enjoyable.
Shoot from as many different vantage points as possible to add spice to your production. If you've ever had to sit through a friend's travel video, shot entirely from a bus window, you know how stale watching scenes from the same viewpoint can be.
TIP
| | |
| --- | --- |
| | Carry fully charged spare batteries. Don't miss an event's highlight because you ran out of juice . Also, carry a screw-on clear lens (called a UV lens ) and camera cover for shooting outdoors when it starts raining. |
Scenes comprised of shots from different perspectives make your movies more interesting.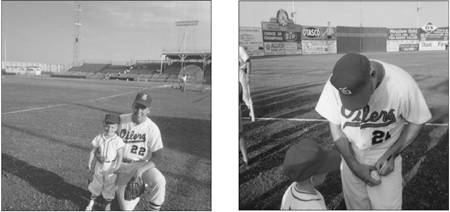 KEY TERM
| | |
| --- | --- |
| | UV lens " A screw-on clear lens that protects your camera's built-in lens from scratches and weather. The lens filters none of the camera's vision, so your videos are unaffected by its presence. |
Shoot peripheral elements at your event. If you film your daughter 's graduation, also shoot the parking lot as people arrive and leave. Take shots of the front entrance and of the sign. You can cut some of these extra shots throughout the graduation itself. Your video does not have to be entirely linear. A judicious use of jumping to and fro can spruce up an event as long as the event itself remains the primary focus, and as long as you don't make too many cuts to peripheral scenes.
TIP
| | |
| --- | --- |
| | If you can afford a second video camera, even if it doesn't have the bells and whistles of your primary camera, give it to another person at the event to get shots from locations other than where you'll be. You can later edit in some of these shots to add another perspective to your scenes. |
After you have as much as possible on film, and after the event is over, you can edit to your heart's content. With Movie Maker, for example, you'll easily be able to rearrange shots, transition from scene to scene, shorten clips, add special effects, and cut spare footage from the video. It's the cutting of spare footage that is perhaps the most important task you'll perform during the editing of your movie.
"Less is more," is a phrase good writers have understood for years as they write their novel in draft form and then cut, cut, and cut some more to trim excess wordage. Use the same technique for your movies. If you've ever sat through a movie you thought was too long, it's because you felt the same movie could have been made using much less film. Don't make your audience think your videos are too long. Trim shots and keep only the most attention- grabbing elements for most of your scenes.
TIP
| | |
| --- | --- |
| | Shots under 25 to 30 seconds often hold your audience's attention far better than longer shots. Even when shooting the same subject, break up the shot when possible. Try to change the video shot in some way (without relying solely on special effects, panning, or zooming) every few seconds of footage. |
Sure, if you're shooting your sister's wedding, she will want the entire ceremony without one second dropped. Nevertheless, you are free to be creative in the before-and-after scenes of the groom's pre- wedding jitters and the bride's payback for those jitters as she crams an entire piece of cake into his mouth at the reception .
When filming, remember to give yourself room to work during the editing process. Start each scene or shot with four or five seconds of lead time. Keep the camera on a few seconds longer than you need to when shooting a scene. Doing so can give you background audio that you can keep playing during a fade-out effect or during a transition to another scene. Also, the extra footage gives you more edit points that ensure you don't have to cut a scene too short, thus cutting the tone of the scene off too soon.
Shoot many cutaway shots . You can embed the cutaway shots between other shot changes. For example, you could shoot your daughter walking onto the stage and performing her recital and then walking off. Sometime before the production ends, shoot the audience reacting to something similar as a cutaway shot. You'll later be able to cut to the audience's "reaction" and back to your daughter performing (while keeping your daughter's audio continuing through the cutaway).
KEY TERM
| | |
| --- | --- |
| | Cutaway shots " Shots that correlate to a scene but are not imperative to the scene. Cutaway shots help to keep a scene moving without being too distracting. |
Use cutaway shots judiciously to help your audience focus on the scene as well as the scene's surroundings.