The Clock, found in the Applications folder, is a digital/analog timepiece designed to fit into the Mac OS X Dock or float on the desktop as a windoid (a floating, non-editable window). By default, starting the Clock application places a clock face in the Dock.
To configure the Clock application's time display, choose Preferences from the application menu. The Clock Preferences dialog box is displayed in Figure 5.3.
Figure 5.3. Configure the Clock application's display.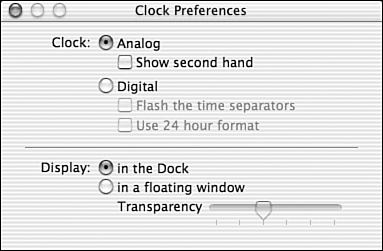 Choose your Clock settings based on a combination of analog, digital, and window types:
Analog " The default view of the Clock is the analog wall-clock style. If you like, click the Show Second Hand check box to display the Clock's second hand in addition to the minute and hour hands.

Digital " The digital Clock display resembles a tear-off calendar page. Both the date and time can be seen in this view. The digital display offers the options of flashing the time separators (:) each second and displaying the time in 24-hour mode.

Display " Finally, the Clock can be shown as an icon contained in the Dock (its default mode) or in a windoid with variable transparency, as shown in Figure 5.4. If you choose the floating window option, drag the transparency slider from left to right to change the window's transparency.

Figure 5.4. When on the desktop, the Clock floats on top of everything else.
After you make your choices, the changes take effect immediately. To automatically launch the Clock at startup, use the Login Preferences dialog.