The Mac's system Calculator, shown in Figure 5.1, is located in the Applications folder. You can toggle between basic mode and advanced mode, which supports trigonometry functions and exponents.
Figure 5.1. The Calculator in default mode offers basic arithmetic functions.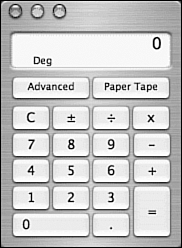 You can operate the Calculator by clicking the buttons in the window or by using your numeric keypad. The number keys on your keypad map directly to their Calculator counterparts, and the Enter key is equivalent to clicking the equal button. The Paper Tape button opens and closes a tray to display inputs. You can print the tape by choosing Print Tape from the File menu.
Another useful, if unexpected, feature is the Calculator's Conversion function. It enables you to easily perform conversions of currency, temperature, weight, and a variety of other measurement units. Simply enter a value in the Calculator, and then choose the desired conversion type from the Convert menu. In the sheet that appears from the top of the Calculator, choose the units to convert from and those to convert to and click OK. A currency conversion is depicted in Figure 5.2.
Figure 5.2. You can update currency rates when choosing monetary units in the currency conversion sheet.