You'll find that the iMovie workspace is easy and fun to work with, like a well-planned playroom (see Figure 13.1) and the iMovie monitor will end up being the center of activity. After you've created a new project, the action happens in the Monitor window, which is used both to capture and preview video in iMovie. The deceptively simple Monitor window is a powerful tool that enables you to switch between looking at video that's coming from your camcorder and the clips that you already have on your Mac by toggling the import/edit control, labeled with camera and scissors icons, below the window.
Figure 13.1. The overall iMovie workspace: The Video Monitor, Shelf, and Timeline Viewer.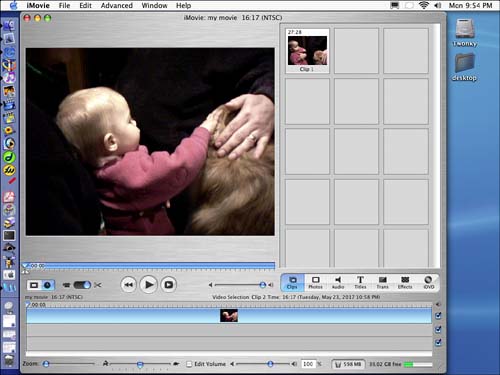 The controls for the Monitor window are much like you use on a DVD player and VCR, enabling you to quickly move through your video or jump to a specific location.