Reference/Help Panel
You can open the Help panel by either selecting the reference button in the Actions panel, or choosing Help, Help (see Figure 8.14).
Figure 8.14. The Help panel and the reference panel all in one.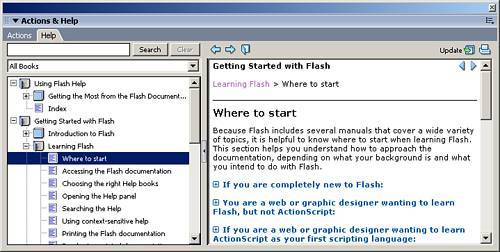 The Help panel has a drop down that lists the different sections of the help panel including: Tutorials and Samples, ActionScript 2.0, Features and Flash Lite.
The Help panel allows you to go through tutorials, or you can search for what you are looking for. The search option will return results based in different categories including the ActionScript reference. You can also print right from the Help panel and run the update from there as well.
NOTE
It is important to update at least once a month to get the latest in definitions and help material available. Also, you can access LiveDocs directly from the Help panel for the most up-to-date information as well as user comments.