Without getting too technical, a Web Part is a modular unit of information that has a specific purpose and that forms the basic building block of a SharePoint page. Web Parts are stored in a gallery (essentially a folder), which is in turn stored by the site or site collection, and can be added to the home page by Site Administrators.
Web Parts can technically perform just about any action possible on a website because they can contain programming code as well as provide access to data. The most commonly used Web Parts in SharePoint manage and provide access to data stored in the database. The data can be in the form of documents that are posted to libraries or in the form of data that is stored in tabular form and posted to lists.
NOTE
| | |
| --- | --- |
| | Let's clarify the difference between document libraries and lists: Document libraries contain documents (of any type that is allowed to be uploaded to a SharePoint library) and lists contain tabular information organized in columns and rows, similar to an Excel spreadsheet. Document libraries can have additional rows of information, called metadata, added by administrators. |
Clicking the Documents and Lists link in the navigation bar on the home page will open a page that shows all the different lists and libraries contained within the site. Figure 4.1 shows the first five items for the sample ProServices site.
Figure 4.1. Documents and Lists viewing page.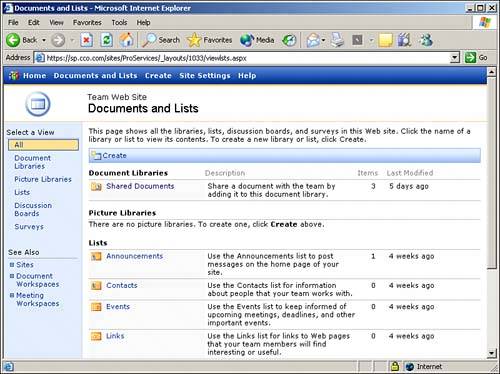 This is a very quick way to see all the different libraries and lists stored in the site, all of which are Web Parts. Bear in mind that not all these may be shown on the home page of the site, or in the Quick Launch bar on the home page, because the Site Administrator decides which items to include for general viewing. Also, note that the See Also area on the left side of the screen in Figure 4.1 provides access to Sites, Document Workspaces, and Meetings Workspaces for a quick way to see which, if any, of those sites have been created.
Clicking the name of a document library or list will also open that library or list. So remembering the Documents and Lists link in the navigation bar is a quick-and-easy way to see the contents of the site.