Before you can move to SQL Server, you must, of course, have the database server installed. In this section, we will briefly look at installing SQL Server Desktop Engine, which is available on the Office XP CD. The full version of SQL Server 2000 is available for evaluation download at www.microsoft.com/sql.
Installing the Engine from the Office is very easy, simply locate the setup.exe file located in X:/MSDE/setup.exe (X representing your CD Rom Drive) and execute. It really is as simple as that. Once you restart you PC, you will find the SQL Service Manager running in the task bar.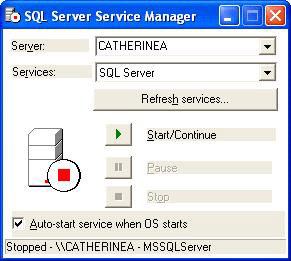 The service manager is used to start and stop the database service. Note in the figure opposite , we have checked the Auto-start to ensure the service starts when the PC boots up. The full install of SQL Server is slightly more complicated, but for an enterprise-level product, surprisingly straightforward. Full details are available from www.microsoft.com . Once the engine is installed you can check all is well by installing the demonstration databases available with Microsoft Access XP. To install the demonstration ADPs:
Open Microsoft Access

Click Help on the main menu

Select Northwind Sample Access Data Project
The sample database will be installed to the database server and the ADP will open.