37. Moderating Comments with Blogger

34 Using Blogger's Commenting System
37. Moderating Comments with Blogger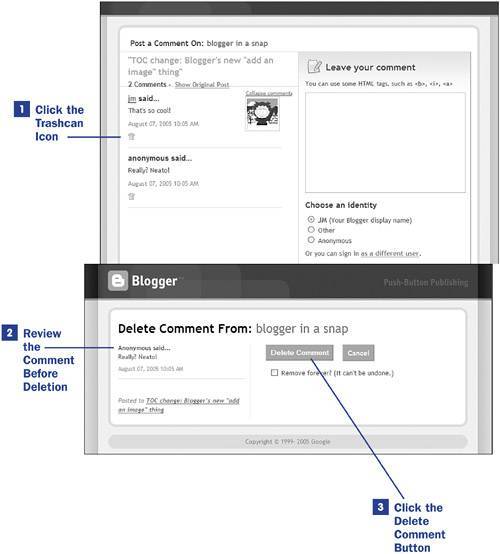 There might come a time when you want to remove a comment from your blog because it is offensive, profane, or just something you don't want to see on your blogit's your blog, after all, and you make the rules. Unfortunately, the Blogger commenting system comes with neither a management interface for your comments nor the capability to ban specific users. Instead, when you come across a comment you want to remove from your site, you must go through a multistep process to do so.
1.

Click the Trashcan Icon

Any comment left on your blogby you or anyone elseshould have a trashcan icon next to it. Clicking this icon begins the comment removal process.



2.

Review the Comment Before Deletion

After you click the trashcan icon, Blogger displays the text of the comment on the deletion confirmation page. This step allows you to review the comment again before it is deleted from the system.



3.

Click the Delete Comment Button

If you have decided to delete the comment, you can remove it forever by checking the Remove Forever? check box and clicking the Delete Comment button. If the Remove Forever? check box is not checked when you click the Delete Comment button, the text of the comment will be replaced with a Comment Removed by Blog Administrator message, but the author's name and the timestamp of the comment will remain.

If you want to exit the deletion process without removing the comment, click the Cancel button.



4.

Return to the Original Post

After the comment has been deleted, you will see a confirmation of the action and a link to the original post. Clicking this link returns you to the original post, but you might have to force-reload the page to see that the comment has been removed.