12. Configuring Blogger's Email Settings
BEFORE YOU BEGIN
4 Logging In to Blogger and Navigating the Dashboard
SEE ALSO
44 Creating a Moblog
The Email options under the Settings tab number only two and are completely unrelated. Additionally, neither of these email-related settings affects the email address associated with your Blogger account or the email address associated with comments you receive through your blog posts. However, these two email-related functional elements provide you with a method for extending your blogging capabilities.
To begin, log in to Blogger and click the Change Settings icon in the Blogs section of the Blogger Dashboard.
12. Configuring Blogger's Email Settings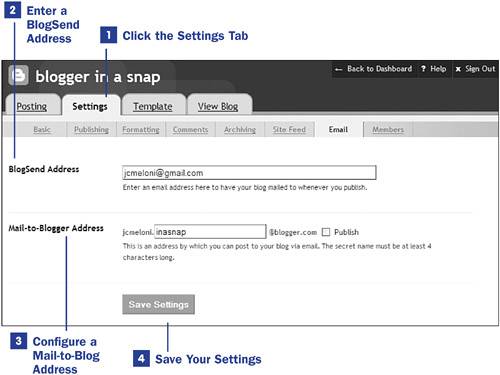 1.

Click the Settings Tab

The Blogger user interface includes four top-level tabs. Click the Settings tab to display links to the numerous configurable options. The Basic link will be preselected for you, so click the Email link to access the feed-related settings.



2.

Enter a BlogSend Address

The email address entered in the BlogSend Address field will be used when you successfully publish a new blog post. When a new post is published, the content of the post will be sent to the address specified in this field. The notification will include the blog title and post title in the subject field, and the content of the post and a direct link to the new post in the body of the email.



3.

Configure a Mail-to-Blog Address

You can post to your blog simply by sending an email to a specified address. In the Mail-to-Blogger Address field, a text field awaits a secret word used to complete the address. For instance, the example shows the secret word inasnap placed in the text field, making the full email address for mail-to-blogging jcmeloni.inasnap@blogger.com. Any email sent to that address would become a blog post.

When checked, the Publish field enables automatic posting to your blog. By leaving this check box unchecked, your emailed blog posts will remain in Draft mode until you manually publish them via the Blogger World Wide Webbased interface.



4.

Save Your Settings

To save the changes made on the Site Feed settings screen, click the Save Settings button. You will see an onscreen confirmation when the settings are saved, and at that point you must click the Republish button to initiate the publishing sequence. When the publishing sequence displays its notice of completion, you can navigate away from the Blogger user interface and view your blog or work with other settings.