6. Configuring Basic Blogger Settings
BEFORE YOU BEGIN
4 Logging In to Blogger and Navigating the Dashboard
SEE ALSO
20 Editing Existing Posts
6. Configuring Basic Blogger Settings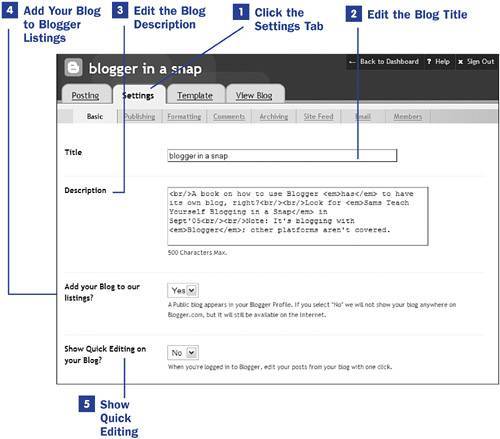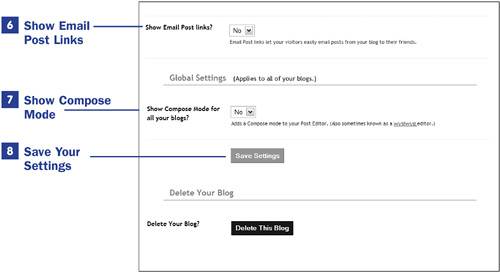 This topic will familiarize you with the basic configurable options under the Settings tab in the Blogger management interface. For example, suppose that you want to modify your blog title or descriptionjust edit the existing settings and you're good to go.
To begin, log in to Blogger and click the Change Settings icon in the Blogs section of the Blogger Dashboard.
1.

Click the Settings Tab

The Blogger user interface includes four top-level tabs. Click the Settings tab to display links to the numerous configurable options. The Basic link will be preselected for you.



2.

Edit the Blog Title

You can edit the title of your blog at any time. Simply enter a new title in the Title field. If you have gained a wide readership, changing your blog title might cause your readership to dwindle until users realize that it is still you behind the posts. On the other hand, changing the title of your blog is sometimes a good way to jump-start a new blogging identity.



3.

Edit the Blog Description

You may enter up to five hundred characters, including HTML markup, in the Description field. Standard Blogger templates often include a space for the blog description. You can use this space to add additional information about yourself and your blog, or you can use the space to include favorite quotes or other content that adds personalization to your blog.



4.

Add Your Blog to Blogger Listings

Select Yes or No from the Add Your Blog to Our Listings? drop-down list. If you select Yes, your blog will be listed in your Blogger profile as well as Blogger's list of recently updated blogs (when you add a new post, that is). If you select No, your blog will appear in neither your profile nor in Blogger's list of recently updated blogs. Selecting No does not affect the publishing status of your blog or the availability of your blog to readersthis setting is applicable only to listings.



5.

Show Quick Editing

Select Yes or No from the Show Quick Editing on Your Blog? drop-down list. If you select Yes, your published posts will include a link that will take you directly to the compose window so that you can edit your post. The quick edit link is visible only to youthe logged-in user and owner of the blog.



6.

Show Email Post Links

Select Yes or No from the Show Email Post links? drop-down list. If you select Yes, a link will be included in your published posts that will allow you to send a note, plus the post's URL, to a specified email address. If enabled, the Email Post link is visible to any blog reader, and is very useful when your readers want to share good blog posts with their friends. Instead of composing an email in a separate application, readers would be able to simply click a link within your blog post, send the message, and return to your blog for further reading.



7.

Show Compose Mode

Select Yes or No from the Show Compose Mode for All Your Blogs? drop-down list. Modifying this setting affects all blogs registered to your account. If you select Yes, the default editor for your blog posts will be the compose mode or WYSIWYG editor. If you select No, the Blogger editor is a more stripped-down version that allows you to enter your own HTML markup at will.



KEY TERM

WYSIWYG

An acronym for

what you see is what you get

. A WYSIWYG editor helps you to produce HTML markup without requiring that you know any HTML to begin with.



8.

Save Your Settings

To save the changes made on the Basic settings screen, click the Save Settings button. You will see a confirmation onscreen when the settings are saved, and at that point you must click the Republish button to initiate the publishing sequence. When the publishing sequence displays its notice of completion, you can navigate away from the Blogger user interface and view your blog or work with other settings.


One other button is visible on the Basic settings screenthe Delete This Blog button. Click this button only if you are absolutely sure that you want to delete the blog, its settings, and all of your posts. If you delete your blog, your posts become irretrievable.