7. Using Blogger's Publishing Settings
BEFORE YOU BEGIN
4 Logging In to Blogger and Navigating the Dashboard
SEE ALSO
3 Using Blogger with Third-Party Hosting
7. Using Blogger's Publishing Settings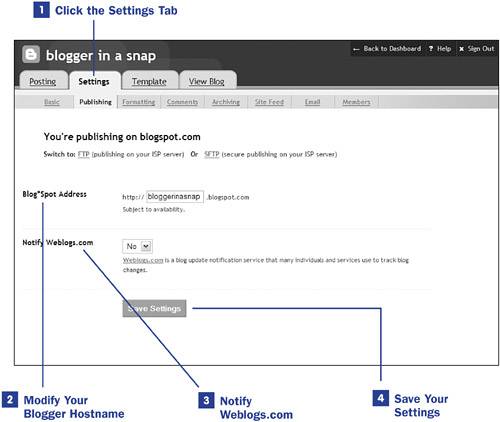 The standard Blogger publishing settings are relevant for publishing on the blogspot.com domain. In 3 Using Blogger with Third-Party Hosting, you can learn about publishing via FTP to a different host. In this topic, only two additional publishing settings are discussed; both are accessible via the Settings tab in the Blogger management interface.
To begin, log in to Blogger and click the Change Settings icon in the Blogs section of the Blogger Dashboard.
1.

Click the Settings Tab

The Blogger user interface includes four top-level tabs. Click the Settings tab to display links to the numerous configurable options. The Basic link will be preselected for you, so click the Publishing link to access the publishing settings.



2.

Modify Your Blogger Hostname

If you want to make a change in your Blogger hostname, enter the new hostname in the Blog*Spot Address field. Just like modifying your blog name, you might experience a drop in readership when you change your blog address. Blogger does not include any redirects from your old address to your new address, so the only way to leave a notice of an address change is to actually create an entirely new blog and maintain both concurrently. If you want your readers to follow you to a new home, do not simply modify your Blogger hostname. Use this publishing setting only if you want to make a wholesale change from one address to the other.



3.

Notify Weblogs.com

Select Yes or No from the Notify Weblogs.com field. Selecting Yes alerts the Weblogs.com notification service that your blog has been updated. Many blog readers monitor Weblogs.com and visit blogs as they are updated because readers like fresh content. If you select No, Weblogs.com is not notified of your update. To gain a wide readership, it's important to utilize all the notification services to which you have access.



4.

Save Your Settings

To save the changes made on the Publishing settings screen, click the Save Settings button. You will see an onscreen confirmation when the settings are saved, and at that point you must click the Republish button to initiate the publishing sequence. When the publishing sequence displays its notice of completion, you can navigate away from the Blogger user interface and view your blog or work with other settings.