Released in 1997, ReBirth was Propellerhead's first virtual drum and bass synth program. This techno micro-composer program is still used professionally today (Figure A.9). It remains the only TB-303 bass line synth, TR-808 and 909 drum machine emulator on the market.
Figure A.9. The ReBirth techno micro-composer is still a favorite of professionals.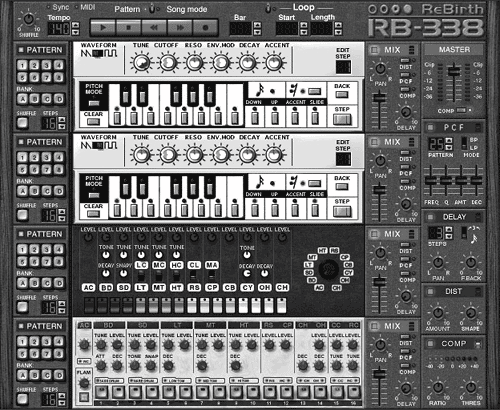 Reason brought ReBirth users a long-awaited back panel with the ReBirth input machine (Figure A.10). This rack device connects all the separate (and mix) audio signals from ReBirth and makes them available in your Reason song or any ReWire project.
Figure A.10. Reason's ReBirth input machine gives ReBirth a back panel.

The ReBirth update costs $69 and can be purchased at the Propellerhead Web site, though the full program cannot be. Replacement drum sounds and customized skins are available to registered users for download.