HOLIS Requirements Organization
Figure A-7 shows the HOLIS requirements organization.
Figure A-7. Organization of HOLIS requirements information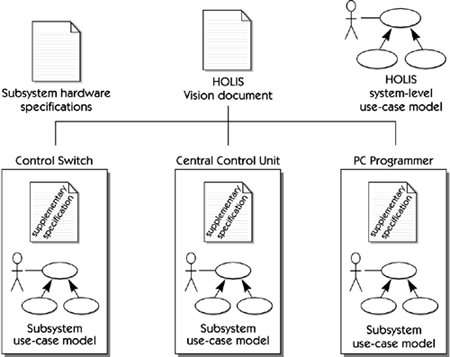 HOLIS Vision Document
We present an abbreviated form of the HOLIS Vision document here, with many sections omitted. A full, generic Vision document template, which you might wish to adapt for your purposes, appears in Appendix B.
Lumenations, Ltd.
HOLIS Vision Document
2002 Lumenations, Ltd. 102872 Cambridge Ave. Marcy, NJ 12345
R EVISION H ISTORY

Date

Revision

Description

Author

1/21/03

1.0

Initial version

Alyssa

2/11/03

1.1

Updated after requirements workshop

E. Green
T ABLE OF C ONTENTS
1 Introduction

1.1 Purpose of the Vision Document

This document provides the current vision for the HOLIS home lighting automation system.

1.2 Product Overview

1.3 References

HOLIS Control Unit Use-Case Model and Supplementary Specification

HOLIS Control Switch Use-Case Model and Supplementary Specification

HOLIS PC Programmer Use-Case Model and Supplementary Specification

Safety and Reliability Standards for Home Security Systems, Overwriters Laboratory 345.22, 2000

2 User Description

2.1 User/Market Demographics

2.2 User Profiles

2.3 User Environment

2.4 Key User Needs

The following user needs were gathered by the marketing department in a series of interviews conducted with prospective homeowners and distributors in fall 2002. These interviews are on file on the corporate intranet at www.HOLIShomepage.com/marketing/HOLIS/interviews.

2.4.1 From the Homeowner 's Perspective

Flexible and modifiable lighting control for entire house

"Futureproof" ("As technology changes, I'd like compatibility with new technologies that might emerge.")

Attractive, unobtrusive , ergonomic

Fully independent and programmable or (reconfigurable) switches for each room in the house

Additional security and peace of mind

Intuitive operation ("I'd like to be able to explain it to my 'technophobic' mother.")

A reasonable system cost, with low switch costs

Easy and inexpensive to fix

Flexible switch configurations (from one to seven " buttons " per switch)

Out of sight, out of mind

100 percent reliability

Vacation security settings

Ability to create scenes, such as special housewide lighting settings for a party

No increase in electrical or fire hazards in the home

Ability, after a power failure, to restore the lights the way they were

Programmable by the homeowner, using an existing PC

Dimmers wherever the homeowner wants them

Programmable by the homeowner, without using a PC

Programmable by somebody else, so the homeowner doesn't have to do it

Ability to turn on some lights manually if the system fails

Interfaces to the home security system

Interfaces to other home automation (HVAC, audio/video, and so on)

2.4.2 From the Distributor's Perspective

A competitive product offering

Some strong product differentiation

An easy way to train salespeople

Ability to demonstrate the system in the shop

High gross margins

2.5 Alternatives and Competition

3 Product Overview

3.1 Product Perspective

3.2 HOLIS Product Position Statement

| | |
| --- | --- |
| For | homeowners building new, high-end homes |
| Who | would like to enhance their residence and their convenience, comfort , and safety |
| HOLIS | is a home lighting automation system |
| That | brings unprecedented, state-of-the-art lighting automation functionality, with ease of use and a reasonable price. |
| Unlike | the Lightomation Systems series from Skowron's Industrial Controls |
| Our product | combines the very latest in home automation functionality with built-in security features, and costs less to install and to maintain. |

3.3 Summary of Capabilities

3.4 Assumptions and Dependencies

3.5 Cost and Pricing

4 Feature Attributes

4.1 Status

4.2 Priority

Apply a critical, important , useful prioritization scheme.

4.3 Effort

Low, medium , and high as set by the development team.

4.4 Risk

Set by development team.

4.5 Stability

4.6 Target Release

4.7 Assigned to

4.8 Reason

5 Product Features

5.1 Critical Features for v1.0

Fea23 : Custom lighting scenes. The system gives the homeowner the ability to create up to TBD custom lighting scenes. Each scene provides a preset level of illumination for each lighting bank throughout the residence. Scenes may be activated from either the Control Switch or the Central Control Unit.

Fea16 : Automatic lighting settings. The homeowner can create preset, time-based schedules for certain lighting events to happen.

Fea4 : Security sequence. The system has a built-in security feature that provides a one-button , panic alarm emergency sequence activation from any control switch in the house. The security sequence sets the lights to a predetermined scene setting and will also ( optionally for each) flash the lights, activate an alarm, make a dial-up call to a predetermined number, and deliver a voice-based preprogrammed message. The system also closes a relay contact, which homeowners can use to control devices of their choice.

Fea6 : Reliability. Our homeowners have repeatedly stressed that the system be as close to 100 percent reliable as possible. This is a particular concern with the security sequence.

(Remainder of features deleted for brevity.)

5.2 Important Features for v1.0

Fea20 : Garage door control. The system supports the garage door as one of the controlled output devices. The software must manage the control of the output accordingly and will need to provide a garage door metaphor/icon and support for programming the feature.

Fea2 : Smart install. Ease of installation has been a key concern of our distributor/customers and will be a key differentiator for us with our channels organization. The software should support this need by whatever means are determined to be reasonable and viable . This could include online help for an installer's guide and instruction manual, a troubleshooting guide, in-process status assessment indication, automated fault detection, and so on.

(Remainder of optional features deleted for brevity.)

5.3 Future Features

Appendix A in the Vision document lists features that have been identified for possible future versions of the system. Although we agree that no significant investment is to be made in these in v1.0, we do ask that the marketing and engineering teams review this list and, wherever possible, keep these needs in mind as the design and development of the v1.0 system proceeds.

7 Other Product Requirements

7.1 Applicable Standards

7.2 System Requirements

7.3 Licensing, Security, and Installation

7.4 Performance Requirements

8 Documentation Requirements

8.1 User Manual

8.2 Online Help

8.3 Installation Guides, Configuration, Read Me File

8.4 Labeling and Packaging

9 Glossary

Appendix A Future Features Identified in Requirements Workshop

Appendix B Storyboard as Presented to Workshop Attendees

Appendix C Exemplary Use Cases