3.1. Transferring Photos from your Digital Camera to your iPod Photo
Due to its relatively large storage capacity, the iPod photo is very well suited to be a portable storage solution. One good use is for storing photos from your digital camera. Though there is no direct way for you to transfer the photos from your digital camera to the iPod photo, you can use the Belkin Digital Camera Link (see Figure 3-1). Using the Digital Camera Link, you can simply connect your digital camera to the Digital Camera Link via an USB cable and the photos on your digital camera will then be copied onto your iPod photo.
Figure 3-1. The Belkin Digital Camera Link for iPod w/ Dock Connector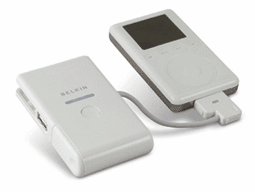 If you don't fancy connecting your digital camera directly to the Digital Camera Link, you can alternatively use the Belkin Media Reader (see Figure 3-2), which reads memory cards of the following formats:
Figure 3-2. The Belkin Media Reader for iPod w/ Dock Connector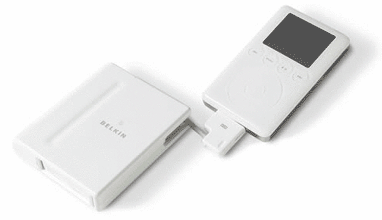 | | |
| --- | --- |
| | Note that even though your photos are copied to the iPod photo, you cannot view them on your iPod photo. This is because the photos on your iPod must be compressed before they are viewable. |
3.1.1. Remote control your iPod Photo
In Chapter 2, I mentioned that you can use your iPod photo to store your presentation slides. A great complement to this solution is to equip your iPod photo with an infrared remote control. The NaviPod IR Remote from Ten Technology is one such device (see Figure 3-3).
Figure 3-3. The Ten Technology NaviPod IR Remote for iPod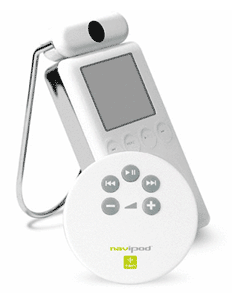 Using the NaviPod IR Remote, you can now remotely control your iPod photo to move between slides!
3.1.2. Extending the iPod Battery Life
Even though Apple claims you can enjoy up to 15 hours of continuous music; or up to 5 hours of continuous slideshows with music, your mileage may vary depending on how you use your iPod photo. In this case, it is always wise to bring a spare battery pack to juice up your iPod photo, especially if you are going to do a very important presentation.
The Belkin TunePower Rechargeable Battery Pack (see Figure 3-4) provides an additional 8-10 hours of power and comes with a power-level indicator to tell you if your battery power is running low.
Figure 3-4. The Belkin TunePower Rechargeable Battery Pack