---
This chapter, as its objective, will communicate to its readers an understanding of how a new technology can distinctively solve real business needs. In so doing, the chapter will, at each step along the way, explicitly seek to tie the technology back to the business context. The reader is taken through the process by which Application Service Provision (ASP) affects the business issues and management concerns that arise with information systems (IS) in inter-organizations. It examines the strategies that will enable inter-organizations to better manage ASP resources for competitive advantage (Porter & Millar, 1985). ASP is defined, and the term is used in this chapter to refer to Provision and Providers interchangeably.
To deal with this complex topic, the chapter has been structured into four main sections. The chapter's introduction is immediately followed by detailed definitions of ASP. The second section presents the central theme of the historical shifts from a mainframe to a client-server, and now to an ASP strategy for Innovation Management, thereby empowering the emergence of a new type of organization—inter-organizations—with a new type of IS—an inter-organizational information system (IOIS). Inter-organization here refers to a group of organizations composed of representatives of the participating organizations who coordinate relevant activities. Planning, programming, implementation, and monitoring of activities undertaken jointly or individually by the participating organizations are carried out in consultation with the use of an IOIS. This ensures full consultation among all those involved, with the aim to ensure effective implementation without duplication. The intellectual contributions of IS pioneers (such as Checkland, Markus, Porter, etc.) serve as a framework for discussion of the ASP industry's impacts on the strategic transformation of such organizations—including regional, multinational, and global corporations—in the Internet age.
Next, in the third section, we will dive into the ASP phenomenon and discuss those engines that are driving the ASP industry. Just as the steam, electric, and gasoline engines became the driving forces behind the industrial revolution of the early 1900s, so the Internet and high-speed transmission protocols are making inter-organizations' strategic transformation a reality in the Internet Age. The Internet's ongoing change is a structural feature. The endless evolution of information systems is fueled by new opportunities and ever new technological and commercial vistas. A resulting "information processing" industry is the business sector that is providing the impetus for this revolution in innovative management, with its increasingly improving array of hardware, software, and information products and services (Dussauge, Hart, & Ramanantsoa, 1994). These technologies, in turn, are having and will continue to have profound impacts on an inter-organization's management, competitive advantage, and productivity—all processes that need to be reliably supported by IOIS.
Having set the stage by describing the changing business environment of inter- organizations, we then move to discuss the need for each inter-organization to fundamentally rethink its corporate strategy. Just as the railroad industry in the late 1800s had to change its mindset from one of buying up large land tracts and laying railroad ties to one of moving goods and people from one place to another, so inter-organizations today need to reconsider their traditional lines of business as they begin operating in the Internet Age. For ASP vendors, it is not just a question of selling a product, but of selling a solution to a customer's problem. This is where the lines between delivering the services and between traditional versus emerging markets are blurring and changing. The overwhelming technical and business advantages presented by the ASP business model will have significant repercussions over time on the entire IS ecosystem. Many IS services companies have recognized the opportunities and threats presented by ASP and are beginning to proactively redefine their business strategies. The dilemma for the IS service provider is how to establish the best ASP market position without severely impeding the company's current business progress and developments. The chapter examines the increasing use of acquisitions, mergers, and other forms of joint ventures, but retains its distinctive emphasis on the use of such strategies by inter-organizations operating in an ASP industry. It shows there are few relevant issues and concerns challenging the maturation of the ASP concept. It is probably not coincidental that just as the Internet is beginning to offer a revolution in the free expression and dissemination of ideas, a new mood of creeping commercialization—expressed through the concept of intellectual property rights—is also starting to gain momentum. Is this where danger lies for inter-organizational information systems (IOISs)? The chapter also introduces a human factor into the discussion. It endeavours to point out that there are both risks and opportunities for every organization in the Internet Age.
Finally, the chapter examines the problem of redefining success in the business environment of inter-organizations. Central to this discussion is the idea of adding value at each stage of the IOIS to meet the very high demands for indispensable communication, monitoring, filtering, coordinating, and decision making. Web services are shown to represent a significantly new phase in the evolution of software development which is unsurprisingly attracting a great deal of media and industry hype. The qualitative dimension is as important in an ASP industry as the quantitative dimension. Quality control must be built into the front end of the service delivery cycle, not viewed as a last-minute check to be done just before contracts are reviewed (Guah & Currie, 2003). Much of this discussion implicitly recognizes that doing business in the Internet Age forces suppliers, producers, and consumers into far closer proximity with one another than is the case in an industrial economy.
ASP Definitions
The official body of authority, ASP Industry Consortium, defines ASP as a third- party service firm which deploys, manages, and remotely hosts software applications through centrally located services in a rental or lease agreement (ASP Consortium, 2001). Such application deliveries are done to multiple entities from data centers across a wide area network as a service rather than a product, priced according to a license fee and maintenance contract set by the vendor. This model enables ASPs to serve their customers irrespective of geographical, cultural, organizational, and technical constraints, thereby adding value of location. The apparent complexity of the ASP model led to a taxonomy including Enterprise ASP, Vertical ASP, Pure-play ASP, Horizontal ASP, and ASP Enabler (Currie & Seltsikas, 2001). Evaluation of different ASP business models has resulted into four broad categories of delivery, integration, management and operations, and enablement.
When examined closely, it can be seen that the theory relating to ASP is grounded in theories from other disciplines. This is a view shared by many theories (Chatterjee, Grewal, & Sambamurthy, 2002; Currie & Seltsikas, 2001; Hagel & Brown, 2001). From the definitions of ASP provided below (see Table 1), it is evident that, first, ASP is an IT-enabled change, a different and recent form of organizational change and evidence of the information systems area. Second, it has foundations in the organizational behavior and analysis area (Currie & Willcocks, 1998). Third, evidence of theories regarding project management is also apparent (Dussauge, Hart, & Ramanantsoa, 1994). Fourth, organizational change, which has been identified as rapid change, is also described in the definitions (Kern, Lacity, & Willcocks, 2002).
Table 1:

Various definitions of ASP found in the literature

| Definitions | Authors |
| --- | --- |
| An ASP is a third-party service firm that deploys, manages, and remotely hosts software applications through centrally located services in a rental or lease agreement. | ASP Industry Consortium, 2000 |
| An ASP facilitates a remote, centrally managed "rentanapplication" service for the client. | Cherry Tree & Co., 2000 |
| An ASP is any company that offers specific business applications on a subscription or transaction basis via the Internet or other networked arrangements. | Majority of ITAA Survey respondents; ITAA, 2001 |
| An ASP is any company that delivers and manages applications and computer services to subscribers/clients remotely via the Internet or a private network. | ITAA and ASP Industry Consortium agreed consolidated definition; ITAA, 2001 |
| ASPs represents the first wave to move beyond "the firewall"—key component of existing enterprise architectures—they take traditional enterprise applications like supply-chain management and human resource management and move them outside the firewall in an effort to serve small and medium-size enterprises. | Hagel and Brown, 2001 |
| The concept of delivering business applications as a service, or "apps on tap," used to be called application service provision (ASP). | Kern, Lacity, and Willcocks, 2002 |
| ASP Model (used interchangeably with "software as a service") provides application software via the Internet, through dedicated network or through wireless, through an approach of one-to-many services, usually with standardized offerings, to numerous clients or through customizing offerings to a group of clients in particular markets, such as has already been provided to government and the financial sectors. | Kakabadse and Kakabadse, 2002 |
| An Internet-based company focused on delivering enterprise applications to small and medium-sized enterprises, in a more costeffective way. | Hagel, 2002 |
| ASPs are firms that manage and deliver application capabilities to multiple entities from data centers across a wide area network. | Currie, 2003 |
Table 1 shows a variety of definitions of ASP in common use. When compared, there is a reasonable degree of consistency that generally includes a description of how ASPs are made up from activities and tasks. Discussion about the connectedness of activities and tasks through being logically related, structured, and combined, also features prominently in the literature (Davenport & Short, 1990).
What does this mean? An ASP is really just processing software on the Net. An outside provider in lieu of being on your local network processes an application like a database that stores records of e-mail. A business does not have to worry about maintaining a server full of information. It seems expedient when one considers that an inter-organization has to spend IT resources maintaining servers, not forgetting the agony when the system goes down or an upgrade is needed.
An ASP often charges a fixed fee to manage your network and applications. Considering that the network management takes place at the ASP location, you do not have to operate your own server—saving such costs. Instead, your computers are connected to the ASP's server through an open connection. The hope is that the costs of such connections should really begin to fall soon. If that happens, this way of working will provide an attractive alternative to increasingly expensive network management. Moreover, you will know in advance what your software and management are going to cost, since you are being charged a fixed fee.
A typical ASP has to endure Government audits, provide multiple servers (redundancy), four-way (4-T3) replication, backup power systems, and 24 hour support, 7 days a week. Instead of spending big dollars on licensing and software, small and medium-size firms can afford to be as powerful as their larger competitors by subscribing to an inexpensive monthly ASP service that allows them to be virtually unlimited in their capacities to store information, thereby leveling the playing field.
With big software suppliers—including IBM and Microsoft—beginning to show their commitment to ASP technology and actually proclaiming to their customers that by the year 2004 most software required to perform business will be supported by ASPs, businesses should begin to look into this emotive revolution, driven by the ability to access critical information from any browser location and eventually from any mobile phone or handheld device (Hondo, Nagaratnam, & Nadalin, 2002; Wilkes, 2002). That reflects the type of ASP defined by 15% of IT decision makers below.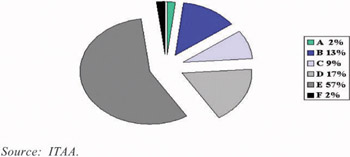 Figure 1: Preferred ASP definition
Source: ITAA.
A recent survey by the ITAA involving mostly IT decision makers within U.S. federal agencies provided the following understanding for what an ASP is (ITAA, 2001).
Please select the answer that best fits your definition of an ASP:
Any company that leases hardware and/or software.

Any company that provides outsourcing/hosting of hardware and/or software.

Any company that provides subscription services and/or content via the Internet.

Any "for-profit" company that provides aggregated information technology resources to subscribers/clients remotely via the Internet or other networked arrangement.

Any company that offers specific business applications on a subscription and/or transaction basis via the Internet or other networked arrangement.

Other, please specify: _______________________.
Questions
It is hoped that in this chapter, readers will be provided with answers to the following pertinent questions. Based on research work at the Centre for Strategic Information Systems (CSIS), the belief is that the ASP concept is the dawning of a new computing era. The most pronounced change would initially occur among inter-organizations searching for IS alternatives, with a more gradual acceptance among larger enterprises (Guah & Currie, 2003). What would be the most likely features of such brand-new technology? Of course, the assumption is the continuing global spread of inexpensive and reliable infrastructure, as well as the continuing availability of high transmission speeds. Will the emergent archipelago of reliable and immensely useful networked edifices of clarity, logic, and ingenuity, operate side by side with an ever-expanding network of digital slums, that is, systems which will continue to observe the tradition of inexpensive, easy to construct but dump and chaotic technology? Could ASP— driven by the needs of inter-organizations—create the means for automatic recognition and analyses of vast arrays of nuggets of individually addressable, networked data and commentaries? Will IOISs—as an Internet revolution— continue to threaten those who wish, for whatever purpose, to control information?
Research
A research process within large organizations traditionally consists of selecting possible data sources, data collection and data analysis thereby offering the potential for information overload (Roszak, 1994; Shenk, 1997). For the purpose of this research, the choice of which sources to use, which elements to collect, and which elements to analyze was informed by the methodological principles underlying our research. The research takes place within an interpretive tradition (Klein & Myers, 1999), thereby not accepting that there is a single objective reality that all participants are working toward (Walsham, 1993). The research objectives are threefold. First, they consider the prospect of an evolution in the service industry today, which is critical for improving services through the use of IS. Second, it considers how a remote delivery model using ASPs may be applied to horizontal and vertical sectors. Third, it discusses some of the applications that are currently deployed by large ASP vendors, along with others that may be targeted to specific areas, such as health care, airline, and financial industries. The authors took note that organizations pursuing a total outsourcing approach would encounter different problems from those adopting a less ambitious approach. By developing a typology that links scale of IT sourcing with customer interdependency, the results of the extensive fieldwork confirmed that there were distinctive types of IT sourcing decisions pursued by the various inter- organizations.
The overall aim of the research study is to develop a risk assessment framework for evaluating the deployment, hosting, and integration of Web-enabled software applications by ASPs. This framework is intended for businesses that do not adopt formal project selection and management methods and tools for evaluating different vendor offerings. Initial research into the emerging ASP industry was exploratory, and not intended to test or validate a particular theory (Yin, 1994). Field research was conducted in Silicon Valley and Europe to identify key questions for further research (Currie & Seltsikas, 2001). A qualitative research methodology was used, as this would elicit rich data and information on the range of Web-enabled software application from ASPs. At the end of the 1990s, academic and practitioner literature was predicting the following (Bender- Samuel, 1999; Currie & Willcocks, 1998; Subramani & Walden, 1999):
Application outsourcing would become a global phenomenon among businesses, providing new opportunities for the IT industry

The ASP model would utilize a mix of capabilities and skills from telecommunications, Internet Service Vendors, networking, and co-locator firms

Application outsourcing would require new project management methods and tools different from those used in traditional outsourcing.
The researchers considered it important to carry out a scoping study of the emerging ASP market in order to explore the themes above. Key questions, mentioned in the first section of this chapter, were demarcated. To answer these questions, a qualitative methodology was used to elicit rich data from respondents on the supply side and the demand side of application outsourcing. The focus on vendors and customers was deemed essential, particularly as vendor hype was distorting the true picture of how the ASP model was being perceived in the service industry. In this context, field research was appropriate, because it would investigate the experiences and opinions of actors directly involved in defining and adopting the ASP model (Avison & Fitzgerald, 2003; Yin, 1994).
This study explores the business benefits and, to an extent, disincentives, of ASP to the customer in the dynamic and changing IS delivery environment of the Internet Age. Related work has found that, although IT outsourcing is often treated as a panacea to enable organizations to reduce costs and gain access to new staff and skills, many outsourcing deals fail to deliver expected benefits (Currie & Willcocks, 1998).
Prior to conducting the fieldwork, ASP adoption data were collected from various sources, including practitioner conferences (IDC, Gartner group, ASP Industry Consortium, Internet World, and from the trade press and company Web sites). Secondary sources served to build a data bank of market intelligence on a variety of ASP offerings. The use of multiple sources in data collection helps to scope a research study and encourage convergent lines of enquiry. Yet, caution is required in using vendor literature, because it tends to create an overoptimistic picture about the advantages of the ASP model, while underplaying the pitfalls (Currie, 2003). Comparing secondary sources with the results of fieldwork, however, is a useful exercise in assessing the validity of data. The tangible outcome of the research is twofold. First, short case studies were developed from the visits to each firm, which record their different characteristics. Second, the data obtained from field visits and secondary sources are used to develop a knowledge-based risk assessment framework to enable businesses to evaluate the benefits and risks of Web-enabled software applications, from both supply-side and demand-side perspectives.
---