The Authoring Connector is a stand-alone tool that doesn't require any other CMS 2002 components to be installed on a client computer. The Authoring Connector provides a new feature in CMS 2002 that enables business users to create and submit content without leaving Word XP. In the previous versions of CMS, document content could only be copied and pasted into the placeholders in the Web Author. Using Word XP with the Authoring Connector, authors can create and update content on the CMS site using a wizard-driven interface. Currently, the Authoring Connector enables content authoring from Word XP only; content from other Office applications, such as Excel, must be manually copied and pasted into the appropriate placeholders, using the Web Author as before.
The Authoring Connector Wizard provides an author with a list of predefined publishing tasks and guides the author through the submitting content to be published. Upon completion of the wizard, the Authoring Connector creates a new posting. The status of the posting is set to WaitingforEditorApproval. For content to become available on the live site, the page has to go through the publishing workflow as usual.
NOTE: As we have mentioned previously, in CMS 2002 the terms "page" and "posting" can be used interchangeably.
The publishing tasks for the authors are preconfigured by a site administrator, thus shielding the business users from the detailed understanding of CMS site structure and functionality.
A content author can submit an entire document or a selected part of a document. How the content is inserted into a CMS page is defined by the placeholders within a template on which this page is based. The content can be inserted into the page in one of two ways:
The content, including text and/or images, is displayed inline as a part of a Web page.

The entire document is inserted into a page as an attachment.
For example, Figure 7-1 shows a page created from Word XP using the Authoring Connector. The selected text from the Word document is displayed inline, providing the abstract for the full document, which is available for download as an attachment on the same page.
Figure 7-1. CMS page created from Word XP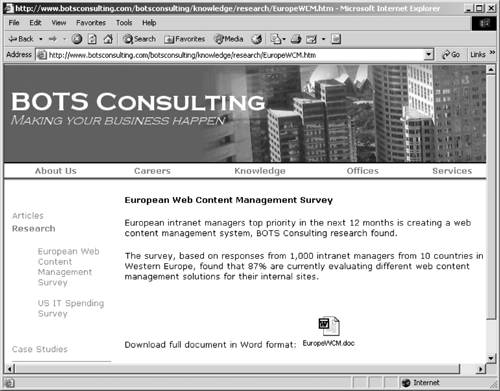 NOTE: The Authoring Connector targets templates, not placeholders. The content is placed into the placeholders within the template depending on the types of placeholders and their properties defined by the template designers.
Now that we have an idea as to what the Authoring Connector is, let's discuss its architecture and look into how it is used.