The Production Manager dialog lists all pages that have been created but have not been published on the site. To display the Production Manager dialog (Figure 5-45), select the Production Manager option in the Web Author console.
Figure 5-45. Production Manager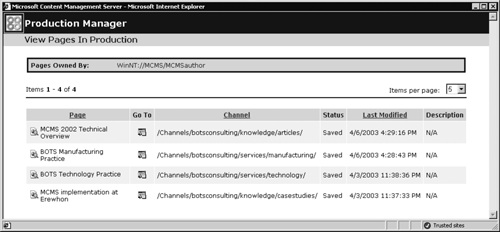 The Production Manager displays the pages in production that are owned by the currently logged-on user. The pages are listed by their display name. The Production Manager allows the page owner to preview the pages by clicking the Preview icon, and to navigate between the pages in production that are in Edit mode by clicking the Go To button (refer to Table 5-4 for the icons' look and functionality). This navigation feature is very useful because the pages in production are not available on the live site; therefore, you are not able to browse to them.
The order of the pages can be sorted by the page display name if you click on the Page link in the header row, or by the containing channel name if you click on the Channel link, or by the last modified date and time if you click on the Last Modified link. The default sorting order is by time; the newer pages appear at the top of the table.