Over time, you might need to alter the settings of your SSP, such as changing the credentials of the configured SSP service account because you want to change the password. To administer the properties of an SSP, you must first navigate to it. Follow these steps to access the page:
Launch SharePoint 3.0 Central Administration from the Administrative Tools menu.

Click the Application Management tab.

In the Office SharePoint Server Shared Services section, click Create Or Configure This Farm's Shared Services.

Hover your mouse over the SSP name so that the down arrow appears to the right of the SSP name. Click the down arrow, and from the drop-down menu, select Edit Properties, as shown in Figure 18-1.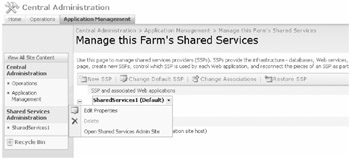 Figure 18-1: Editing the properties of shared services
From this properties screen, you can make the configuration change to the SSP. The options available are described in Table 18-1. It is highly unlikely that you will need to alter any settings here once the SSP is created. However, these configurations are available if you need to change them. The page you will spend most of your time configuring is the default administrative page, and that's covered later in this chapter, in the "SSP Management" section.
Table 18-1:

The SSP Property Options
Open table as spreadsheet

| Property option | Description |
| --- | --- |
| SSP Name | Enables you to change the descriptive name used for the SSP. You can also see the URL hosting the SSP administrative site. This property cannot be changed, but you can get redirected to the Shared Services Administration page by clicking the URL link. |
| My Site Location | This is the Web Application URL that is hosting the user's My Site for this SSP. If it is changed, any existing My Site needs to be migrated to the new location. It is recommended to host the My Site on its own Web application. |
| SSP Service Credentials | This account is used by the SSP to run local timer service jobs and also for interserver communication with the SSP Web services. |
| SSP Database | This property lets you view both the database server hosting the database and the name of the database it is connecting to. |
| Search Database | A second SSP Database is used for search metadata; this option lets you view the location for the database server and the name of the database it uses. |
| Index Server | An SSP can use one index server, and all associated Web applications and content sources configured within this SSP are crawled by this Index Server. If you select a different index server, the index file is moved to the new index server. Make sure the new index server has sufficient space to hold the index file. |
| SSL For Web Services | You can enable SSL connections to the SSP Web Service by installing a certificate on each IIS Server that hosts an SSP administrative site. |
| Process Accounts With Access To This SSP | You can delegate additional access control rights to the SSP for users and Web applications by adding the domain account here. The usernames need to be in the format of Domainname\Username. |