Active, Inactive, and Protected Tracks
Each track in Liquid Edition has three natural states: Active, Inactive, and Protected.
Only those tracks that are active can be affected by the razor blade. Active tracks are, by default, Name 5, Name 4, and Name 3.
Active tracks are always light blue; Inactive tracks are dark gray (Figure 6.43). You can change their state by simply clicking directly on the name track to change the color.
Figure 6.43. Name 5, 4, and 3 are active; the rest are inactive.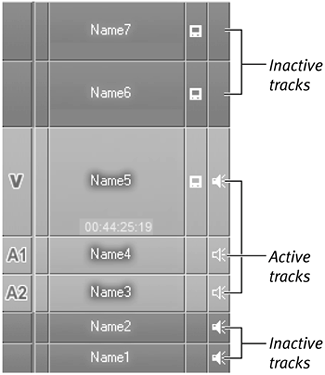 Clips can be dragged to either an Inactive or Active track, but the razor blade and the insertion of Dissolves (see Chapter 8) and Cross Fades (Chapter 7) will not affect or be applied to Inactive tracks.
A Protected track is one that can no longer be edited. To protect a track, right-click the track's name and select Protect from the list of choices. This turns the whole trackincluding the clip(s) on the Timelinelight gray and indicates that the clips are now fixed and cannot be altered or added to in any way (Figure 6.44).
Figure 6.44. A Protected, an Active, and an Inactive track.
To unprotect a track, right-click the name again and deselect Protect by clicking it.