Navigation View
To conform with all DVD programs, Liquid Edition must know where to place the cursor on the menu when the up, down, left, or right key on the DVD remote control is pressed. This is automatically included when you build a DVD menu, but you can also change this.
To view the actions of the remote cursor, first press the Navigation View button to display the paths between the buttons. Then click any button, and move the mouse to the top, bottom, left, or right of the button to display an up, down, left, or right arrow. The trails you see indicate where the DVD cursor goes when you press a button on the remote control (Figure 12.53).
Figure 12.53. The remote pad Navigation view.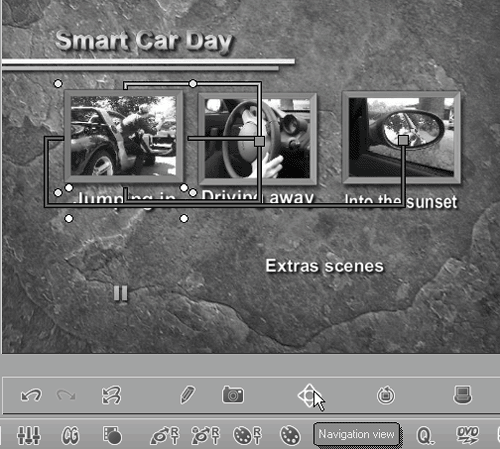 To alter the direction, place the mouse over the button, click and hold the mouse button, and move the mouse around until the direction you want appears. Then drag the colored line to the button you want to associate with this remote control action.