3 4
If you work with engineers, architects, or others who use a CAD drawing program, you may need to convert a Visio drawing into CAD format for them to review. Visio exports one page of a drawing into CAD format without affecting the original Visio drawing. If the Visio drawing file includes multiple pages, you must convert each one separately. You can convert a drawing page to Autodesk AutoCAD DWG or DXF format or Bentley MicroStation DGN format using the Save As command on the File menu, as Figure 17-17 shows. Choose the file format from the Save As Type list, type a name for the new file, and click Save. Repeat the process for each page you want to export.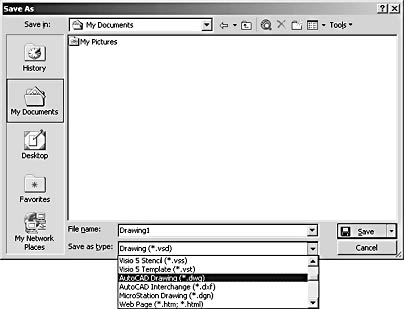 Figure 17-17. Converting a Visio drawing file to CAD format is as simple as saving it in the format you want.
Note
---
As with any conversion process, some data might be lost each time you convert the file. For example, if you convert CAD dimension lines into Visio format, the dimension lines are no longer formatted with their fonts, line styles, and fills. Data integrity usually remains acceptable when you convert CAD files to Visio drawings or when you export Visio drawings to CAD files. However, when you round-trip files or convert them multiple times, the integrity of your files suffers.