TIP
If you're just looking to get your feet wet in the pool of connecting to the Internet through a public hotspot, it's worth noting that Starbucks provides a promotional one-day pass that gives you a free day of Wi-Fi access using a special promotional code, as explained in special brochures available in each store. Other Wi-Fi vendors often provide comparable introductory offers.
As I've noted, there is an increasing movement on the part of retailers to provide free wireless networkingin part to drive traffic and in part as a matter of philosophy. I'm all in favor of this movement, as I really like getting my connectivity free.
However, it is still the case that a great deal of the time, as the saying goes, there is no such thing as a free lunch, or a free latte. For example, if you go to a Starbucks, you will need to pay to surf while you sip.
With most Wi-Fi service providers, you don't need to sign up for a plan, although it will certainly be beneficial for you to do so if you plan to make much use of the service. You also don't need to enroll with a Wi-Fi service provider in advance. You can do it on the spot when you connect via your laptop (provided, of course, you've brought a valid credit card).
With T-Mobile Hotspot, you can sign up for access by the minute, the day, or for a monthly plan.
The initial sign-up screen is shown in Figure 9.4 and gives you a good idea of the different plans and costs associated with them.
Figure 9.4. It's easy to sign up with T-Mobile or other Wi-Fi service providers.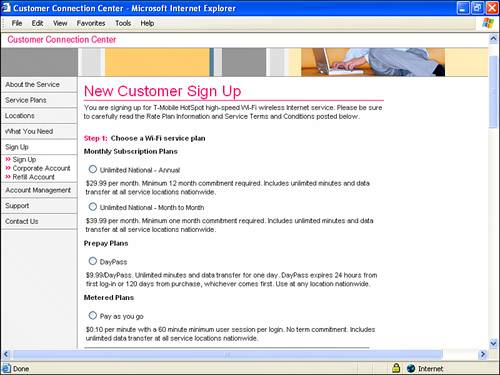 The sign-up page shown in Figure 9.4, as you notice, is simply part of the T-Mobile Hotspot website, and once again you need to be connected to the Web to reach it. You'll be pleased to learn that you can also sign up from a wireless location without having done so in advance on the Web, as I'll show in a moment.