A hotspot is the term used to mean an area in which Wi-Fi users can connect to the Internet.
The term covers for-fee hotspots, which expect you to pay for access, just as you pay for Internet access via an Internet service provider (ISP), such as a cable or telephone company at home. It also covers free commercial hotspots, which are put up by businesses to generate traffic, as I've already discussed. Finally, more free hotspots are provided by institutions such as libraries and local governments. (For example, the city of Philadelphia is planning to provide hotspot access across virtually the entire city.)
In addition, there are "spill over" hotspots: put up with free access, but not necessarily your free access, in mind. Spill-over free access examples that are perfectly reasonable to use include hotspots put up by many business conventions, which provide Wi-Fi access as a courtesy to attendees, hotels providing courtesy Wi-Fi to guests in the lobby, and so on. However, you might want to think twice about "mooching" access from people who don't intend to share their Internet connection, but just don't have the savvy to protect it. (They probably haven't read this book.)
You might know in advance where to find Wi-Fi access on your travels. I've mentioned hotels and conventions already because these are likely places to find Wi-Fi access. You can certainly inquire ahead of time.
If you don't have advance information about the location of Wi-Fi hotspots, you can also just turn your laptop on and wander about from location to location like a digital Ulysses looking for wireless access. (You'll find a discussion of the Wi-Fi finder, a small gadget that might help you locate Wi-Fi hotspots, just by wandering, later in the chapter.) But assuming that you'd like something a little more pinpointed than the Clint Eastwood "Do you feel lucky?" approach, using the Internet to find Wi-Fi hotspots is the best way to go.
Of course, you have to be able to access the Internet directories from a location where you have Internet access. As Homer Simpson might say, "D'oh!" But this can become a catch-22, so you should certainly try to locate likely hotspots ahead of time (while you still have Internet access) if possible. I've seen people crawl from hotspot to hotspot, not leaving one until they've found the next.
There are three approaches to take when making your search for a place to surf:
You can use the search tools provided by an organization whose branches host Wi-Fi hotspots, such as the Starbucks chain.

If you've signed up with a Wi-Fi provider, you can search the directory of hotspots maintained by your service provider.

You can search one of the many cross-provider Wi-Fi hotspot directories available on the Web.
I'll show how all three approaches might work using a test example. I live midway up in the hills in Berkeley, California. Let's suppose that I want to sip latte at a coffee shop and need to keep on checking my email while I do.
Searching a Chain
If you know the name of the organization or chain of stores that you would like to use as a wireless destination ("I want to surf at Starbucks," or "I want to browse at Borders"), you can go directly to the website of the organization to find a wireless location. The first approach, because I know that Starbucks coffee shops have Wi-Fi hotspots and I like Starbucks coffee just fine, is to find a Starbucks near me that is Wi-Fi enabled.
It's easy to go to http://www.starbucks.com and choose the store locator by clicking the Find Your Nearest Starbucks link on the home page. With the locator page open, I can select Wireless Hotspot Stores from the Store Type drop-down list, and fill in my city, state, and ZIP as shown in Figure 9.1.
Figure 9.1. You can search on the Starbucks website for stores with Wi-Fi hotspots.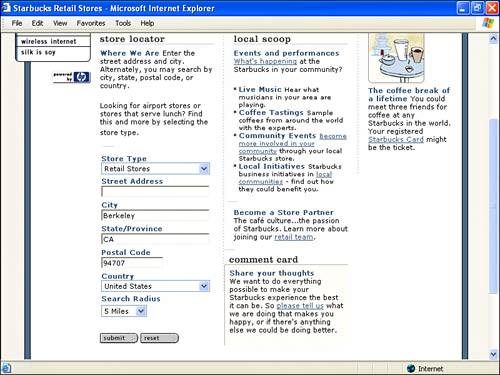 Click Submit. You'll see a page showing the nearest Starbucks locations that are equipped with Wi-Fi along with a handy map (see Figure 9.2).
Figure 9.2. The Starbucks search shows a number of local stores with Wi-Fi hotspots.
Starbucks is a likely chain to search for wireless access, but as more businesses decide it is worth their while to offer anywhere computing to their customers, there might be other choices that you are also interested in. For some other retail chains that feature Wi-Fi access, see Appendix B, "Where the Hotspots Are."
Searching a Wi-Fi Service Provider
If you have signed up with a national network, such as T-Mobile Hotspot, it stands to reason that you will want to use hotspots provided by your network. For one thing, you probably have to pay a fee to your national provider. It's likely that you don't want to have to pay an additional fee to another provider. The best approach for finding network-specific hotspots is to use the directory provided by the network itself.
There are about a dozen major Wi-Fi service providers in the United States alone, and hundreds of smaller, mom-and-pop vendors. There are really only a couple of big Wi-Fi service providers with national coverage. If you've signed up for a payment plan with one of these big players, you will probably stick with the hotspots they provide so as not to pay multiple times for access.
Although there is no hard-and-fast rule about this, as with cell phone communications, you tend to get charged a bit more for "roaming." Because the industry is still so young and fragmented, there is, indeed, no guarantee that one Wi-Fi service provider has even set up a cross-billing arrangement to cover roaming with yours. As one Wi-Fi user told me, "I travel a lot, but I really don't want to get stuck paying two or more Wi-Fi providers a monthly service fee of at least $30 each."
Chapter 10 explains the structure of the Wi-Fi service provider industry, who the players are, how to pick the best one for you, and how to work with your Wi-Fi service provider. In the meantime, if you're searching for a national Wi-Fi service provider, three of the biggest are Boingo, Wayport, and T-Mobile Hotspot:
Boingo Wireless has about 3,500 live hotspots in the United States, with a strong representation in hotels and coffee shops, and an international footprint. The Boingo website is http://www.boingo.com.

Wayport is a privately held company based in Texas that is strong in hotels, airports, andmore recentlyin McDonald's restaurants. The Wayport website is http://www.wayport.com.

T-Mobile is a cell phone company that is a subsidiary of Deutsches Telekom. The T-Mobile Hotspot division provides Wi-Fi access in Borders, Starbucks, and many other locationsalmost 5,000 nationally. The home page for T-Mobile Hotspot is located at http://www.t-mobile.com/hotspot/.

T-Mobile provides a number of tools for searching for hotspots, such as the clickable map and drop-down list shown in Figure 9.3.

Figure 9.3. You can use the clickable map to find hotspots provided by T-Mobile in your state.



Ultimately, if I drill down on my location using the map T-Mobile provides, I'll get the same list of Starbucks locations provided by the Starbucks chain itself for Berkeley, Californianot particularly surprising because Starbucks and T-Mobile are partners.