Taking pictures used to be a cumbersome affair. Well, not quite as bad as the nineteenth-century plate cameras of back breaking weight with black tents for loading film plates. But still, you had to load film in to the camera, wind it, rewind it, remember not to open the camera until the film had been rewound, and get the film to a photo lab. Some time laterit might be hours, and it might be daysyour photographs would be ready. If you wanted to share them with a friend, you had to go back to the photo lab and have new prints made.
The best picture is the one you take. If you have to remember to take a camera and all the accessories with you, you might never take that picture. But if you have your Centrino laptop equipped with a camera, you don't need to lug a standalone camera at all.
Wireless networking takes the digital photography revolution to the next step.
With Wi-Fi, you can transmit your pictures for viewing anywhere from anywhere. This has implications in many different areas, including
Data gathering for professionals: In a variety of professional fields, such as medicine, the ability to easily transmit photographs can be used in examinations, consultations, and for general communication.

Teaching: The ability to instantly compare visuals with someone who is not present will be very useful in many educational contexts. For example, you could show a biology sample from your course lab work to a teacher at a distant location and get immediate feedback.

Amateur photography: The ability to send and receive images seamlessly from a wide variety of devices will change the way people use photography. People will reach for a laptop computer using Intel Centrino mobile technology that also takes pictures in much the way they reach for pen and notepad today.
To start with, it's easy to save your pictures to the hard drive of the Centrino laptop used to take the pictures.
Using the Network Smart Capture application, select an image to be saved from the library of images, and click the Save As button, shown at the tip of the mouse cursor in Figure 5.12.
Figure 5.12. It's easy to save a picture to your file system using Network Smart Capture.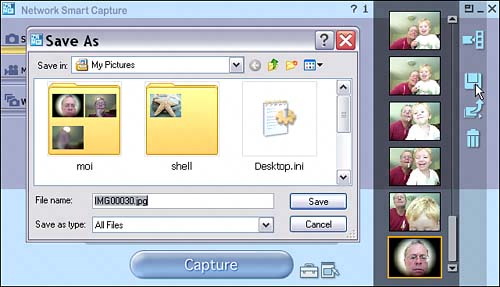 Next, give the photo a filename and select a folder for it, as shown in Figure 5.12. Click Save to save the picture.
Note
Network Smart Capture also provides easy ways to email photographs as attachments and to save them using image servers available to other computers on a wireless network.
The process works in the same way in the Scanner and Camera Wizard. With a picture selected, in the Picture Name and Destination pane, shown in Figure 5.13, you provide a filename and location (using the browse button).
Figure 5.13. To save a picture, provide a name and location in the Scanner and Camera Wizard.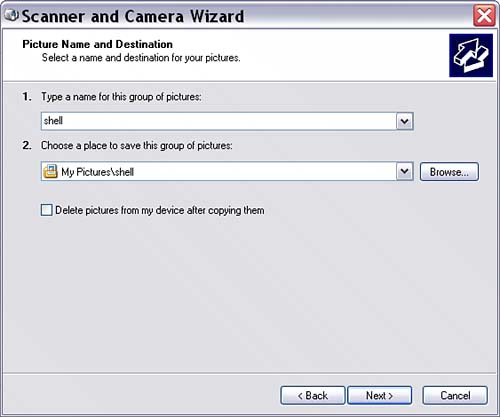 When the wizard completes, the picture will be saved with the name and location you designated (see Figure 5.14).
Figure 5.14. The file has been saved using the Scanner and Camera Wizard.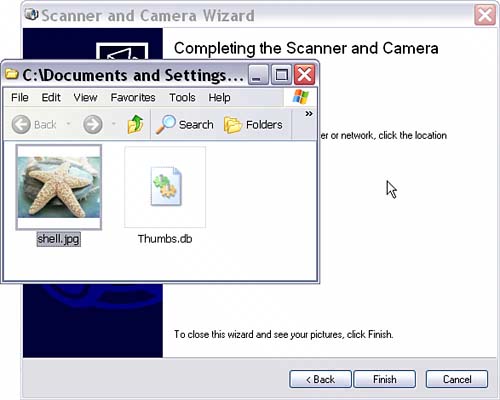 Whatever software you use to capture and save your photos, once they are part of your mobile computer's file system, you can use standard mechanisms for saving them to different machines on your wireless network. Windows Explorer is shown being used to copy a photo across my wireless network from one computer to another in Figure 5.15.
Figure 5.15. You can use Windows Explorer to copy a photograph from a mobile wireless computer to another computer.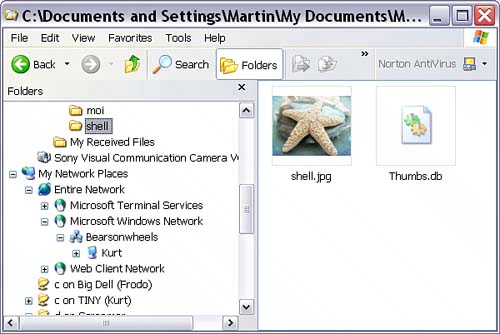 You can also use email to send photographs as attachments and use standard mechanismssuch as FTPto upload photographs taken with your Centrino laptop to the Internet.