The LundstromARCH project illustrates how this design process is actualized. Lundstrom & Associates is a small architectural firm in southern California specializing in high-tech "smart classrooms" and university buildings (see figure 09:02). The challenge of this project was to convey Lundstrom's technological capabilities to university architects , a market segment that exhibits unusually high design standards.
Figure 09:02.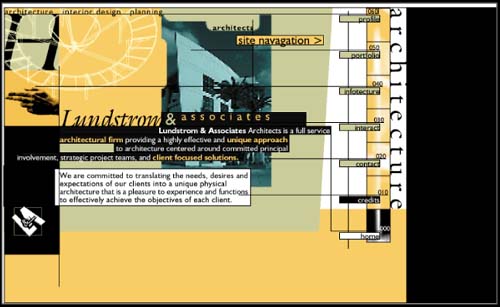 The site was designed to communicate two messages. First, through visual design and content it communicates that, no matter what type of project the firm is working on, Lundstrom & Associates is concerned with listening to the needs of its clients . Second, Lundstrom is presented as technologically savvy, a quality that is essential to developing "smart classrooms."
To get across the idea that Lundstrom "as an example of the best kind of architect "was always attuned to its clients'needs, we came up with the concept of the translator. A translator is always listening and his job, in essence, is to react to what he hears. The very use of our web site medium, Flash, marked Lundstrom as technologically savvy while being capable of sophisticated design imagery.