Viewing Related Records in the Datasheet View
When working with a table in the Datasheet view, you can view data held in a related table. The information that can be viewed is contained in any table that is subordinate to the table you currently have open in the Datasheet view. Tables subordinate to a particular table hold the foreign key (which is the primary key in the top-level table in the relationship).
For example, suppose you are viewing the Departments table that was included in the table relationships shown in Figure 19.1. A plus sign appears to the left of each record in the table (see Figure 19.3). To view related data for each record, click the plus sign (which then changes to a minus sign). A table appears that contains the related data for that record. In this example, the Employees table provides the related data (which, if you look back at Figure 19.1, was related subordinately to the Departments table).
Figure 19.3. Display related records in the linked table by clicking a plus sign next to a record. Contract them again by clicking the minus sign.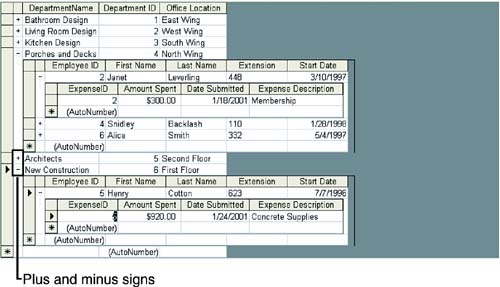 When related records are displayed, the plus sign turns into a minus sign. Click that minus sign to hide the related records again.
As you can see in Figure 19.3, even the related records can have linked information. For example, clicking any of the plus signs next to the records containing employee information shows data pulled from the Expenses table (which, again referring to Figure 19.1, is related to the Employees table).