By default, Notes sorts contacts in views by their first name. To change this default so you view contacts by last name, follow these steps:
| | |
| --- | --- |
| 1. | Choose Actions, Edit Address Book Preferences from the menu or Tools, Preferences from the Action bar. |
| 2. | Select Display names by default in Contact form/views(s):Lastname Firstname. |
| 3. | Click Update All Entries to change existing entries as well as new entries. |
| 4. | Click Save and Close. |
For any contact, you can customize field names (Lotus calls them labels) on the Business and Personal tabs. Perhaps you want the Other email 1 label to say Home email. To do this, click the Edit Contact Labels button near the top of the Contact Information section and rename the labels (see Figure 12.6).
Figure 12.6. When you click Edit Contact Labels, a dialog box appears. There, you can use field name suggestions provided by Notes in a drop-down menu, or you can type in your own names for fields.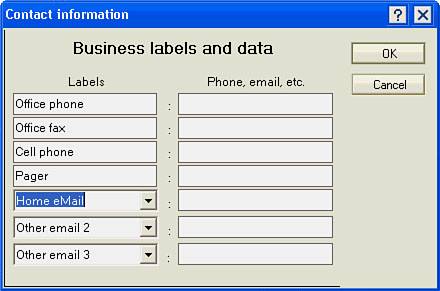 You can also customize a contact's address format. Notes provides six different internationally accepted formats for addressing mail. These formats are applied when you print labels from your address book. To apply an address format, open a contact and click the Select Address Format button on the Action bar. Choose the address format you prefer and Save and Close the contact.