The Replication page provides a central location to handle all your replication needs. By using the features available on the Replication page (see Figure B.2), you can set options to control which databases replicate and with which servers you are replicating. To open the Replication page, click the Replication bookmark on the Bookmark bar.
Figure B.2. While you are replicating, you can see the progress of the replication at the bottom of the Replication page.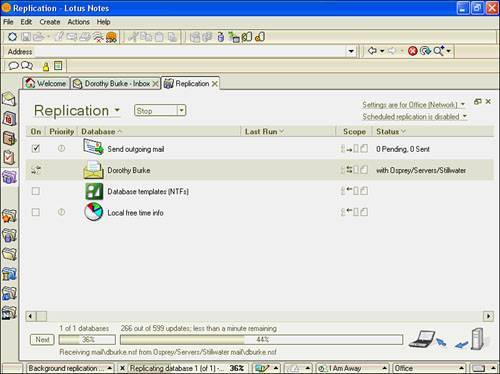 There are several rows, or entries, on the Replication page:
Send outgoing mail and Send outgoing Internet mail Sends all pending messages from your Outgoing Mail databases. These databases hold your outgoing mail when you work offline. When you use the Replication page, the outgoing mail gets routed to the server.

Databases For each local database replica that you have, such as Mail, there is a database entry on the Replicator page.

Database templates Templates are used to create new databases and to refresh the designs of any template-based databases you have. You probably will not need to replicate your templates with the server. (You need to do this only to update your templates.)

Local free time info Your mail server keeps track of its mail users' calendar entries so that, when we want to schedule a meeting, we can see when potential attendees are free. When working offline, we don't have access to that information on the server. By right-clicking this entry and setting appropriate options, we can store other people's busy times locally, so as to gain this same benefit while working offline.

Call server and Hang up These entries automatically appear when you choose any location configured for connecting to servers via a modem. When you activate replication, these entries place the phone call and then hang up automatically when replication is completed.
Each entry row also has a check box. To include an entry in the replication, click the check box (a check mark appears). When you click the Start Now button (select Start Mail Only Now from the drop-down menu to replicate the mail files only), Lotus Notes performs the functions of each checked entry row in the order of the rows.
The Status bar at the bottom of the page shows information about the current replication, letting you know when Lotus Notes is attempting to call a server, what database is being replicated, the progress of the replication, how many minutes are left, and when the replication is finished. After replication, the status bar displays statistics for individual entries.