102. Save Your Title
BEFORE YOU BEGIN
95 About Titles
96 Use and Customize a Title Template
SEE ALSO
103 Create a Title from Scratch
As you know, after you create and edit a title, it is automatically added to the Media panel. You can use that title again in the project in which it resides. But what if you want to use that same title in another project?
A simple process allows you to save any title for use in any project. After you save a title, it is as easy to add it to a project as it is to add any other media to your project. When you have created a few different titles (as described in the previous tasks), let's learn how to save a title to use again.
1.

Select the Title to Be Saved

In the Media panel, highlight the title you want to save as a template for use in other projects.



2.

Choose File, Export, Title

From the main menu bar, select File, Export, Title. The Save Title dialog box opens.



3.

Select Title/File Location

In the Save in text box, select the location where you want to save the title. You can use the default location or browse to another folder or directory.



4.

Name the Title

In the File name text box, type a name for your title. Be sure to give it a name that will help you remember what type of title it is and what it would be used for.



5.

Click Save

Click Save, and the title is saved in the selected destination. It will have the filename you entered followed by a .prtl extension.


102. Save Your Title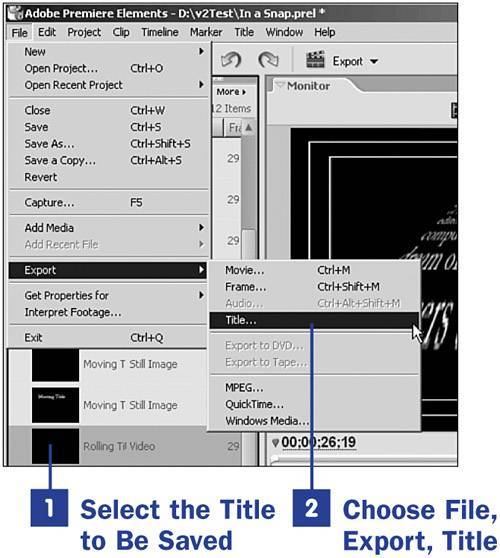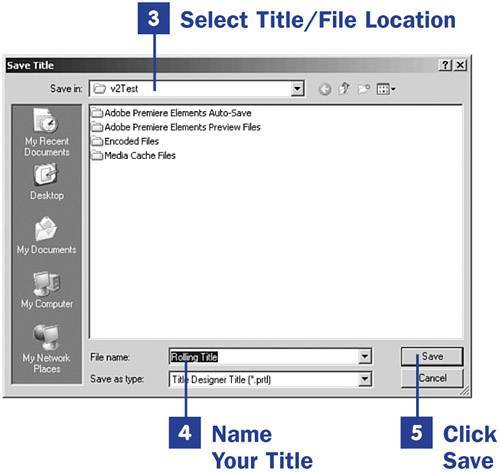 TIP
Titles are saved with a .prtl extension. If you want to use this particular title in another project, use the Add Media button to add the title file to the Media panel, just as you would to add any other type of media to your project (see 14 Add Media with the Adobe Media Downloader). When browsing for the file, look for the filename you gave the title and the .prtl extension at the end.