CASE DESCRIPTION: TRAVEL MANAGEMENT AT CSA
Project Background
Liz, administrative travel services officer at CSA, is sitting at her desk and preparing a report for John Walker, Resource Department. John would like to know how many times some of his team members were traveling to Rockhampton and Bundaberg to set up a brand-new dingo fence. He needs to know in detail which accommodation they selected and who else of the entire organization is going frequently to these places and for how long. A local hotel manager, who offered John a business contract with fixed rates for accommodation, contacted John before. "This can significantly reduce our accommodation costs," he is thinking, and he wants to investigate this lucrative offer. John e-mailed his request to Liz, who easily creates for him a report in the enterprise system containing all required details. Ten minutes later John receives the report and he can start to evaluate the data."'How the time changes," he thinks.
Unfortunately the easy creation of a report in the enterprise system for John Walker is not a reality yet. Mary-Lyn Harrison, senior project officer at CSA, stated, "We simply don't know who is traveling when, where and why, causing how much costs although we capture all data on our travel documents."
For these reasons CSA's management decided to initiate a process reengineering project as part of their efforts to realize maximum benefits of their enterprise system. The scheduled system upgrade offered the chance to implement and to redesign the business travel process based on a total Travel Management solution. The business process redesign should achieve a higher process efficiency and enable CSA to serve their customers with Travel Management as a high quality and reliable product. The project should apply the reengineering methodology of the process management life cycle, shown in Figure 2 (Rosemann, 2001).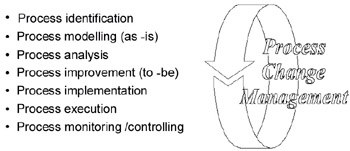 Figure 2: Process Management Life Cycle
After identifying all core processes, the processes will be captured in an as-is process model in order to simplify the following process analysis. Based on identified IT and organizational issues, the project team will develop alternative to-be scenarios and present them to CSA's IT management as project sponsor. The project team will herewith prepare the decision making of CSA's IT management under the project management of Mary-Lyn Harrison. For the project team, the implementation of the full-integrated Travel Management solution from SAP seems to be the most coherent step, but the IT management has doubts if this solution would match CSA's very individual requirements. Therefore, also alternative technical solutions and recommendations of how the process can be improved should be strongly emphasized. Overall, the project objective is to identify the most suitable Travel Management solution, prepare its implementation within the upgrade project, and recommend how the business travel process should be redesigned and improved.
Project Review and Findings
The project team started with a collection of all available data at CSA related to the business process and interviewed Ken Blake, the business process improvement manager, and Mary-Lyn Harrison. Ken, who selected the business process with a high priority for reengineering, presumes that some business trips might be not required. Furthermore, Ken wonders why no statistical data about business travels are available to report to the senior management and also why the GST of travel and travel-related expenses can often not be claimed back from the tax office. The goods and services tax (GST) was only introduced in Australia with July 1, 2000. For most organizations, which never dealt before with GST, this was challenging and led to enormous changes within their financial management. The following document was created during a first project meeting with Mary-Lyn and Ken.
Project meeting protocol 24-05-2001, 2.00–3.00 pm
Participants: Ken B., Mary-Lyn H., Cindy C., Astein M., Frode D., Marte S.
CSA employs four full time travel officers in four local service centers and one travel officer at the headquarters to arrange business travels. The role of a central travel manager does not exist.

Not included is an officer controlling travel advanced payments, compensating travel expenses or designing financial reports

Organization-wide travel services supplier for flights and hotel bookings is Mantas Travel since May 2001. New negotiations with Mantas will take place.

Preferred service supplier for car rentals is Qfleet, with about 2,000 vehicles due to negotiated rates. Car rentals from AVIS can also be purchased to special conditions based on a statewide contract.

CSA charges 18.45 AU$ from their clients per into SAP R/3 Financials entered travel expenses claim. These revenues are calculated on a cost-covering basis for all indirect costs, such as labor costs, allocated overhead costs and cost for SAP R/3 caused in association with domestic travels. One travel claim can contain expenses of several travels.

The captured data in SAP R/3 Financials are total management cost data.

The GST of all direct expenses while traveling, for example, for taxis, meals, newspapers and other incidentals, is not reclaimed due to the high effort of collecting receipts and consolidating all data.

Travelers can receive a reimbursement either of all travel expenses on a flat-rate basis (so-called travel allowances, according to CSA's travel policy) or of all actual travel expenses.

Corporate cards are widely not used for business travels. Only senior executives and managers are corporate cardholders. Credit card statements are monthly provided by the card issuer VISA as digital data.

Some travelers do not have access to information technology and rely on the services of the local service centers.
Available data of the financial year 1999/2000 about business travels
Approximately 47% of all employees of ID and RD were traveling for various business purposes
29,823 trips were processed

1.1% of these travels had an overseas destination.

Among the interstate travels 95% took place within Queensland (intrastate).

Direct travel costs were 16.519.417 AU$.

Costs for overseas travels reached 1.215.515 AU$

ID had 1,708 business travelers causing direct travel costs between 35 AU$ and 8,594.94 AU$ per traveler. o Traveler applied in 6% of all travels to receive travel allowances in advance of the trip.
Paper-based documents within the process
Travel requisition form-required if the travel service supplier Mantas Travel or AVIS is involved for flight or car booking and reservation of accommodation.

Motor vehicle booking form-required if a Qfleet vehicle needs to be booked.

Application for travel advances-required if the traveler applies for travel allowances which will be paid in advance of travel covering all direct travel expenses.

Travel expenses form and possibly receipts-required if the traveler wishes to claim either the total amount of all direct travel expenses after travel or prefers to receive allowances after travel.

Private mileage form-required if a private car was used for a business trip to claim the car usage on a flat-rate basis.

The responding activities to the processing of these documents are a booking confirmation or payment or an inquiry based on incorrectness, missing data, authorization or not in accordance with the travel policy. All documents are decentralized in the appropriate local service center archived.
The project team took this information as initiation to follow the flow of the above documents and identify their origin and transformation within the process. Further it analyzed interview results from travelers in order to evaluate travel patterns. This enabled the team after several weeks of work to describe the process on an abstract level with two incidences, A and B:
Project Findings by Cindy C., Astein M., Frode D., Marte S.
Process Description
Objective of this description is to build a basis for the establishment of a process model depicting the as-is stage of the selected business process.
The overall business travel process is triggered by a reason for a business travel with a specific date and location. It needs to be distinguished between two different process incidences caused by the different characteristics of the business travel.
Interstate, 2–3 days, flight

For example, travel of a senior manager to a two-day conference in Melbourne.

Intrastate, 1 day, car

For example, a one-day business travel of a scientist to take water samples on different sites.
Based on the reason for travel, the traveler will have to explore the most suitable transport and accommodation for his/her travel purpose.
A The traveler will require accommodation and flight. The service provider will need to be contacted via telephone to receive detailed information about alternative flights and accommodation. The traveler is not limited by travel policy to directly contact a preferred accommodation and explore vacancies. B The traveler will require a car, but no accommodation. The traveler will have to contact, according to CSA's travel policy, the government car rental provider Qfleet in order to explore an available car. Once the traveler has gained all required knowledge, he/she will set up his/her personal travel plan. The travel plan includes travel details, such as departure and arrival dates and times, the selected accommodation and selected transport. The traveler undertakes now the required bookings in accordance with the travel plan.
A The travel requisition form will need to be filled and approved by the supervisor and a financial authorized employee before faxing it to the service provider. As response the traveler will receive a booking confirmation via fax. B The booking of a Qfleet car is an internal transaction whereby the internal fleet service department of CSA undertakes the booking in AMIS. The motor vehicle booking form will need to be filled and approved by the supervisor before it will be transferred to the fleet service department. As response the traveler will receive a booking confirmation. The traveler will have to decide what type of reimbursement for direct travel expenses he/she individually prefers:
A Application for travel allowances, presenting a flat rate for daily expenses based on the destination and absence time, established in travel policy. The traveler can receive these travel allowances either in advance (advances) or after travel (allowances). If the traveler wishes to receive advances it will be required to fill the application for travel advances, which will have to be approved by the supervisor and an officer with financial authorization. B Reimbursement of the actual travel expenses, which takes place based on receipts after travel (actual expenses).
Finally, the travel requisition form and, if requested as A, the application form for travel allowances are sent to the responsible travel service center. The travel officer will check the correctness of all details and the accordance to travel policy. If there is incorrectness the traveler will be contacted by the travel officer for clearance. In case of accuracy the travel officers will enter the following data into the SAP R/3 Financials and archive the documents: total amount of travel allowances, account code, GST claim applicability.
A If the traveler decided to receive travel allowances all regular expenses will be covered expenses beyond have to be covered by the traveler him/herself.
B During traveling the traveler will pay all expenses either in cash or via private credit card in exceptions the traveler will hold a corporate card. If the traveler wants to claim these expenses as actual expenses all receipts will need to be kept. To claim actual expenses, after return the traveler will have to complete a travel expenses form, which has to be approved by the supervisor. All collected receipts will need to be attached and the form will be sent to the finance department. The officer will check the correctness of all expense details and the accordance to the travel policy. Finally the data will be entered into the SAP R/3 Financials and the documents archived.